If you're a BookRix member, you've most likely seen Cursed Secrets by Lisa Logue listed in our gallery. This week I had the pleasure of getting to know the girl behind the book through an informal interview. This BA pursuing, Tennessee transplant is as down to earth as she is articulate. Lisa enjoys spending time with her two sons, her boyfriend of five years, family and friends – who describe her as "southernized". As you may have guessed, she's passionate about writing, is an avid reader and is a self proclaimed movie buff. What else has Lisa got up her sleeve? Check out our Q&A below and see for yourself.
What inspired you to start writing? And is that what inspires you now?
I've accepted the fact that there wasn't such a thing as one inspiration for me. I've been writing since about first grade and the stories were quite graphic. I think I've always been compelled to write about reality within fantasy. The most important thing for me has been creating a world with people who seem real, even if they only exist in my imagination!
What would you like readers to take away from Cursed Secrets / Why should people read your book?
Personally, I don't have a lesson or a moral that I'd like for people to learn. My hope is that readers can use their imaginations and decide for themselves what they want to take from the characters or the story. I'd like to think that Cursed Secrets is a bit of a refreshing twist on the typical books in the fantasy genre right now. Perhaps that's the main reason it should be read? The characters are different, the relationships are different, even the story has a few interesting twists and turns that don't normally occur in a fantasy novel.
We're excited to hear about the sequel to Cursed Secrets! What can you tell us about it?
~The sequel is titled Binding Secrets. There's a lot of work to be done still, but it's coming along nicely. I've had several people ask about the fate of Lia and Christian and I can say that some of this will be resolved. However, there are still obstacles to overcome. Some new and old characters will surface as Lia embarks on her journey before and after The Council, adding more drama to the already tumultuous situation. No cover available yet, but one should be released in late Summer!
What made you want to self publish through BookRix?
I've always liked the community and I've met some really great people. Some of the best books I've read have been written by indie authors versus traditionally published books. There are so many different genres and options out there for people to write and read, it's almost impossible not to find it on BookRix. So, it was pretty much a no-brainer for me.
What do you think are the advantages of publishing through BookRix rather than another self publishing site?
As I said before the community is great, as is the support team. I also found that BookRix is more user friendly than Smashwords and I didn't have to convert the files myself like the pubIt program with B&N. That was the selling point for me!
Cursed Secrets is blowing up on BookRix. Congrats! How do you feel about its success so far?
It's absolutely surreal! I can't even explain how it feels, literally coming out of the gate and BOOM I'm selling like crazy. I think I had to catch my breath! But I'm incredibly humbled by the kind words given by those who've read Cursed Secrets. It's definitely wonderful to know that I was able to convey everything in such a way that it was recognized by my readers the way I envisioned it. I can only hope to continue to do the same thing.
- Cursed Secrets on Amazon
- Cursed Secrets on BookRix
My friend Noelle moved to Portland last year to escape the L.A. rat race and embark on a, as she put it, "a new journey". We met 9 years ago while we were both interning for a mutual friend at a cosmetic company in Costa Mesa. She has an eye for fashion, an ear for good music, and can articulate her thoughts better than anyone I've ever met.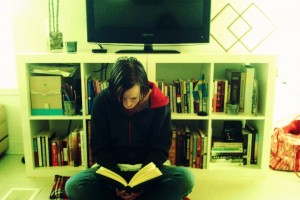 So here we are, sitting on her cozy sofa, sipping tea and playing catch up when I noticed her entertainment unit filled with books. This won't mean anything to you, since you don't know Noelle. But I do, and for as long as I've known Noelle, she's never been a big reader. Between working and going to school (back when we lived in Southern California together) she barely had enough time to see me, let alone read a 200 page book. I remember gifting Choke by Chuck Palahniuk to her for Christmas a few years back. I had read it and knew she'd love it. 4 years later, she still hadn't cracked it open. So when I noticed her newly acquired reading habit, I pointed to the bookshelf and asked her what changed. Time, apparently. Noelle told me that the Portland lifestyle isn't as fast paced as LA, and she's been thrilled to finally catch up on her reading.
I asked her to participate in my blog series, and was stoked that she agreed. Thanks, Noelle!
The Same 5 Questions I Always Ask
1. What book has been the biggest influence in your life?
The Second Sex by Simone de Beauvoir. It's about the beginning of feminism and what it is to be a woman. One of my favorite quotes from it is "One is not born, but rather becomes, a woman". I believe that destiny is not a cosmic force but a human choice, the result of culture and circumstance.
2. What author and/or character do you identify with most?
I identify with Virginia Woolf, as she often found herself dealing with her immediate personal surroundings, sometimes in a overt manner and at other times influenced by surroundings in a rather more subconscious manner.
3. What do you think happens to you when you die?
I believe when you die you are basically leaving the shell of your body. Once you go into the light, you'll watch your life unfold before you – like a movie.
4. Have you ever penned anything yourself? And if so what's the recurring theme?
I recently started writing short stories. The commonality is that there is always a heroine. There's a consistent struggle between the self and the greater good. I have a lot of works in progress.
5. If you had to re-live your life as a character in a book, what book/character would it be?
I would come back as Anais Nin in the diary of Anais Nin. Her diaries are detailed portraits of the expatriate life Parisian literary life in the early and mid 20th century. She seems to be a primarily transitional figure in the evolution of women's consciousness. Also to be alive during such an important time in Paris in the 30's for art and literature would be amazing.