A new book category for YA lovers who want
their books to grow-up just like they have.
If you've grown up reading Young Adult books (YA) and you just can't say goodbye to them, well, this is your ticket. Hold on to your youth for as long as you can. New Adult Fiction is the up-and-coming genre for eBooks – They still have the intense emotions and irrational behavior of YA Fiction, but with the serious responsibility, freedom, and romantic inclinations of an adult.
These are the coming-of-age books for people who have just discovered they're no longer teenagers. The characters have moved away from home, maybe to go to University or to live on their own. They're finally free of the ever watchful eyes of parents and guardians. Not only are they finding out what it means to be an adult, they are also learning how to handle so much freedom. They have complete control over their own decisions and can suddenly do whatever they want. This reminds me of the great quote: "With great power there must also come great responsibility." (Fact of the day: You all probably heard that from Stan Lee (via Spiderman) but it actually originated from Voltaire.)
If you're like me (and half the readers out there) you're always going to love reading YA literature. However, you might also be starting to suspect that you're getting too old for teen angst. New Adult literature is our saving grace. We can still read about young people falling in love, and watch the dramatic changes of a character who is gaining life experiences while leaving childhood behind, but we won't be embarrassed to answer the simple question: What are you reading?
Check out USA Today's Bestseller list – the Number One spot is currently being held by Jamie McGuire's Walking Disaster. New Adult writer Carrie Butler says, "The e-book revolution pushed (New Adult) into the readers' hands." Readers were looking for books that bridged the gap between YA and Adult fiction. Of course, there is an element of sex in these books, but it isn't the most important aspect, it's more about self-discovery, the ups and downs of young love, and a happy-for-now-ending. It's real and we want to read it.
While BookRix doesn't yet have a genre for New Adult books, we're suggesting that authors use it in their keywords. Discuss this new phenomena with our online community of writers, or search for free eBooks with New Adult content. Watch out, or you'll be hooked!  Not that being hooked would be a bad thing… You wouldn't be here if you weren't already ADDICTED TO READING.
Here are some great BookRix eBooks that could be marked as "New Adult" if it were an official category:
From the 90's alone, we've had so many technological advancements. The capabilities of computers are beyond comprehension (to me at least). We've got smartphones, MP3 players, satellite HDTV, lazer printers, – it's really incredible how far our generation has come. Another item worth noting is the eBook. What is it about this downloadable file that makes us giddy with excitement? Well, let's list a few, shall we?
1. Instant gratification: We all have that gimmie gimmie, I need, I need personality trait within us (at least according to Freud). And 9 times out of 10, we can't satisfy it. For example, if I'm lusting after a pair of shoes online, I'm left with two choices: find a store and pray they have my size or place an order online and wait for them to arrive. So few things can be obtained instantly, yet buying an eBook is just that simple. Click, purchase, download, read. Voila!
2. Versatility: Like many people, I like options. When you purchase an eBook, you can read on your eReader, your computer desktop or notebook, PDA, or your smartphone.
3. Cost effective: I'm fine with dropping money on a good book. But let's get real here – a bargain is a bargain. And it's no secret that eBooks generally range from $0.99 – $10, whereas a paperback can cost upwards of $10 – $15. A penny saved is a penny earned.
4. Durability: Have you ever loaned a book to a friend, only to have it returned far from its original condition? We all have. And it sucks. With eBooks, not only do you not have to lend them out, but you no longer need to worry about fading ink, torn pages or general wear. It's in perfect condition each and every time you open it.
5. Noteworthy: Sometimes when you're reading you come across a thought or passage that's worth remembering. When you have a paperback you can either mark up the book (how dare you!) or grab a tablet and jot it down. Ebooks make this process a breeze, as you can leave notes without fudging up your book.
6. Insta-dictionary: We've all come across a word while reading that made us scratch our head. Some of us look at the sentence, see how the word is used, weigh in the context and try to mentally define it. I know I've done this many times, and many times my mental definition has been inaccurate. Luckily eBooks take the guessing out of the game by allowing you to highlight the word and obtain a definition within seconds.
7. Save the trees: I can't get on my high horse about this one because I use paper towels in complete excess. BUT, with that in mind, I feel like by purchasing an eBook, I'm making up for my wastefulness. And honestly, every little bit helps. I recently read that one digital eBook can be distributed to one million readers and save 300,000,000 paper pages. That's something to think about.
8. Authors have more control: When writers publish their work as an eBook, they have full control of their sales. All their numbers and stats are easily accessible and up to date. This can result in better marketing strategies by targeting specific consumers.
9. Feedback is Key: When an author posts their eBook online, readers are encouraged to leave comments and feedback which often times eliminates mistakes and helps improve the authors accuracy level.
10. Don't Take 'No' For An Answer: Gone were the days when writers submitted their work to large publishing houses only to be dismissed and sent back to the drawing board. Take control and go digital. If you know you've got talent and you're confident in your work – publish it as an eBook and let the world decide for themselves!
Obviously at BookRix we're all huge eBook fans. I know I might sound biased since I work here, but truthfully, they really are the cats pajamas. When I went to Kauai last July, I was thrilled that my Kindle took up so little space in my purse. When traveling, you often have to decide which books you're going to take so that you have ample clothing space in your luggage. Not having to decide which books made the cut felt amazing. I was able to take my entire library with me, cause lets be honest – when you're laying in the sun on a beautiful beach your taste in reading material might not be what it was when you packed. Jump on the eBook bandwagon with me if you haven't already. I'm confident your heart will always hold a special place for paperbacks (mine does too), but I'm just as confident you'll be thankful you took the eReader plunge with the rest of the world. And while you're exploring your new found reading freedom, check out my recommendation for today. Warning: It's a tear jerker. So have some Kleenex handy.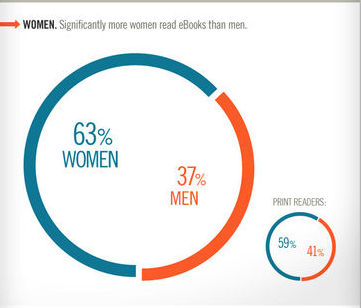 When you're thinking about marketing your book, you should know more about your consumer and how many people out there are actually reading eBooks. To determine how publishers and authors are going to adapt to this digitally savvy target group, Random House wrote an article that puts the e-book reader under the microscope. Some very interesting facts were revealed, for example, women are reading 10-20% more than men. For eBooks, 63% of readers are women. Hmm, could that possibly be the reason why Danielle Steel and E. L. James are enjoying long weekends at their vacation homes in the tropics? Kind of makes you want to add a little romance into your novel, doesn't it? Honestly, that wouldn't be a bad move. Thinking about real life hormones, does anyone really get through any event in their life without libido getting in the way somehow? So why wouldn't your zombie novel have at least two characters becoming romantically involved in the midst of the blood and gore of the apocalypse? A little chemistry goes a long way.
What does this mean for authors?
Well, it means that developing your presence and building buzz across a wide range of online platforms where eBook consumers can be reached (including your website, blog, social networks, and reading-focused sites) will become increasingly important as eBook and eReading device adoption continues to grow.  -Random House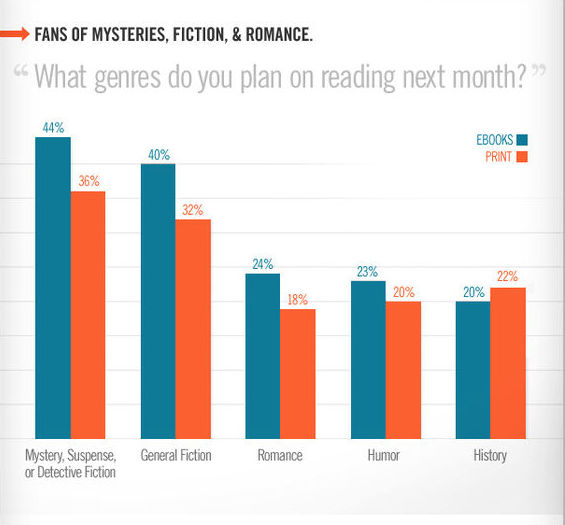 Random House also shared that 60% of eBook readers are under 45 years of age, 66% of eBook readers have a degree, people who read eBooks have a higher income than those that read print books, eBook readers spend less on each book they purchase, and the most popular genre is Mystery & Suspense. Don't get discouraged if you're writing a Science Fiction novel about an elderly man who doesn't have words in his vocabulary that exceed three-syllables. There is still a market out there for you, it just might be a little smaller. And don't forget – the statistics surrounding most popular genre are constantly in flux due to ever-changing trends. When Fifty Shades of Grey came out, the popularity of Erotica went through the roof. And although vampires have always been represented in literature, Twilight brought them back to the front lines of fashion and style – basically they're hot-hot-hot.
The good news is that over 20% of American adults have read an eBook (and this number just continues to grow), and people who own eReaders are 56% more likely to get their reading recommendations from online bookstores and other related websites. (Great news for the wonderfully online and book related community that is BookRix!) And now, the point of this entire blog: What does this mean for the author? I'm going to leave it up to Random House, because they have the perfect answer: "It means that developing your presence and building buzz across a wide range of online platforms where eBook consumers can be reached (including your website, blog, social networks, and reading-focused sites) will become increasingly important as eBook and eReading device adoption continues to grow." – Mina Park, Senior Analyst, Consumer Insights (Click HERE to see entire article)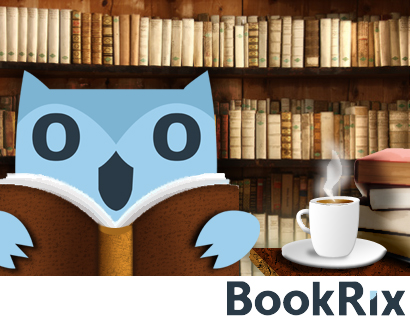 At BookRix, we make it our goal to bring you publishing services that are accessible and affordable for everyone. In order to do that, we made publishing at BookRix completely free. With BookRix, there will never be any hidden fees. All other areas of our community are also free and always will be.
As you've probably heard us say before, our aim is to revolutionize the self-published author's experience. Our passion for this is apparent in the pricing of our publishing packages (FREE)! We like to carry this passion on to your royalties. That is why you will receive 55% royalties on all of your books sold from BookRix, and 43% royalties on your books sold externally. Wondering why BookRix has to keep some? Well, almost 90% of the BookRix share goes to distribution costs for partners, technicians and external promotions. Basically the amount that is taken is used to sustain Bookrix as a company.
During the selling process you will be able to see how much you will be getting paid. Your royalties are paid out to you every quarter if you meet the minimum payout requirement of 25 euros. Once you have made that amount in sales (royalties) from your books, BookRix will transfer your funds quarterly to your already set up PayPal or Click&Buy account. Payout of your royalties is every 12 weeks. This means, for example, that you will get paid for your 1st quarter and the end of your 2nd quarter at the same time.*
Why authors are choosing BookRix:
1. It's Free.
2. At BookRix, what's yours is yours. This means that you always own the copyrights to your book. When you upload your book to our site or sell your book through us, you only give us the right to host your content. Nothing more, nothing less. If you ever decide to remove your content from our site, we won't be able to show it or have access to it.
3. Our Community. Not only can you publish your book with BookRix, you can also get help along the way. The BookRix community is there to read your book and give you feedback (be it critical or praising), supporting your goals as an author. The community will help you design a book cover, edit your book, help you learn from your mistakes and pat you on the back when you're finally finished. They'll also be there to discuss the news of the day over a virtual cup of coffee.
4. BookRix helps authors get their published books to the eBook market. Amazon, Barnes & Noble, Kindle, Kobo and the Apple iBookstore are today's major resources for eBooks and that's exactly where we'll send your book! The more exposure your book gets, the more chances it will have to sell. Currently, if you use Smashwords (another self-publishing service), your book can only enter Amazon (the largest of the online bookstores) if you have already made $1000 with your book. Even then, your book will only be considered for Amazon.
5. The BookRix Team. We want to help make your book the best it can be. We want millions of people to read and love your book. That's why we're here. That's why we created the "Publishing Tips & Tricks" series; to help authors learn more about successful publishing and marketing. We're here to help and it won't take us 10 days to answer you (like it does at other sites). We will do our best to respond within 24 hours and are always happy to answer any questions you might have.
Choosing where and when to publish your book is a big step for any author, so BookRix is here to help make your decision that much easier.
*Tip: If you ever what to see how your sales are doing, when you get paid out, what books you have purchased/sold, etc. you can click on "Home", "Profile settings" and "My Transactions". From here you can look into "Book purchases", your own "Sales statistics" and "Selling expenses and Contracts".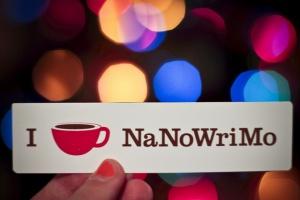 It's NaNoWriMo time again! Starting on November 1st (which means if you haven't already started, GET GOING, you're late!) writers have to put pen to paper, creating a 50,000 word (about 175 page) book by the end of the month. National Novel Writing Month was started to inspire everyone who wants to be a writer, but who have always said "later." It takes a lot of time and energy to write a novel, but with this deadline, you really only give up one month and the end result is a finished novel!
The great thing about NaNoWriMo is that there are no expectations – you can write about anything your heart desires. If you've had an idea on the back burner for years, now is the time to bring it out and make it boil! If, after writing for an entire month, you realize your book is sheer genius – GREAT – publish it and make millions. If not, at least you wrote a book and it didn't take you half a lifetime to complete it.
For most writers, actually finishing a novel is half the battle. We've all got great ideas and brilliantly witty characters, but are completely unsure about how to end the book in such a way that the reader is simultaneously sad and happy. They are sad that the book is finished, but also happy to have discovered their new favorite author. That's a lot of pressure. NaNoWriMo alleviates that pressure by encouraging writers to write for themselves; not for the reader.
It doesn't even matter what your day job is; for the month of November, we're all novelists! It's a great way for teachers, laywers, mechanics and moms to all get together and unite under one simple goal: Write a book.






Here are some great books by authors who don't need NaNoWriMo to complete a novel – May we all have books for sale in Amazon at the end of this challenge:
There's always going to be a debate about Android vs. iPhone and Kindle vs. iPad. It's a given. Lucky for us, we get to use both, so honestly… we get the best of both worlds. But we understand everyone has a preference and we're not here to tell you which one is better. Each have their own strengths, so to each his own.
Today's blog, however, is geared towards those of you utilizing an iPad. We're pretty stoked on the Readmill app on BookRix and we want to be too! After all, it was designed for iPad users specifically, so why not get the most out of BookRix on your eReader? It's a no brainer, too. BookRix users now have the option to download a book directly to their iPad from BookRix with our Readmill app. Next time you open the Readmill app on your iPad, the book will automatically be available to you to read. It's a piece of cake.