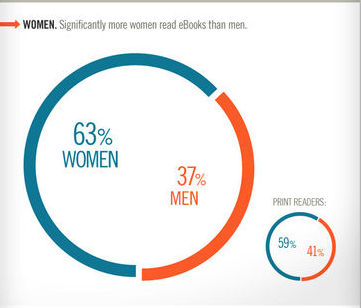 When you're thinking about marketing your book, you should know more about your consumer and how many people out there are actually reading eBooks. To determine how publishers and authors are going to adapt to this digitally savvy target group, Random House wrote an article that puts the e-book reader under the microscope. Some very interesting facts were revealed, for example, women are reading 10-20% more than men. For eBooks, 63% of readers are women. Hmm, could that possibly be the reason why Danielle Steel and E. L. James are enjoying long weekends at their vacation homes in the tropics? Kind of makes you want to add a little romance into your novel, doesn't it? Honestly, that wouldn't be a bad move. Thinking about real life hormones, does anyone really get through any event in their life without libido getting in the way somehow? So why wouldn't your zombie novel have at least two characters becoming romantically involved in the midst of the blood and gore of the apocalypse? A little chemistry goes a long way.
What does this mean for authors?
Well, it means that developing your presence and building buzz across a wide range of online platforms where eBook consumers can be reached (including your website, blog, social networks, and reading-focused sites) will become increasingly important as eBook and eReading device adoption continues to grow.  -Random House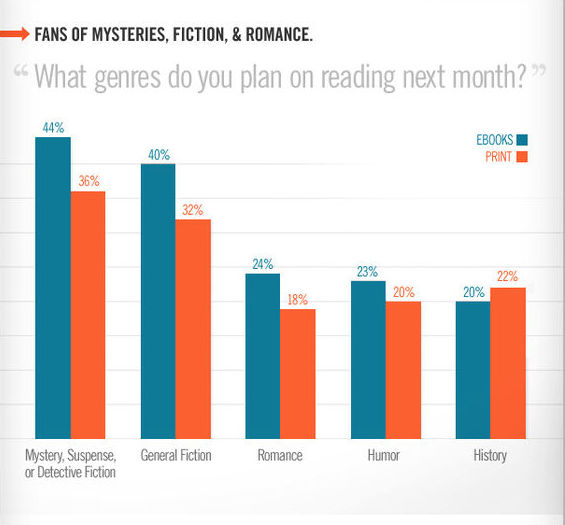 Random House also shared that 60% of eBook readers are under 45 years of age, 66% of eBook readers have a degree, people who read eBooks have a higher income than those that read print books, eBook readers spend less on each book they purchase, and the most popular genre is Mystery & Suspense. Don't get discouraged if you're writing a Science Fiction novel about an elderly man who doesn't have words in his vocabulary that exceed three-syllables. There is still a market out there for you, it just might be a little smaller. And don't forget – the statistics surrounding most popular genre are constantly in flux due to ever-changing trends. When Fifty Shades of Grey came out, the popularity of Erotica went through the roof. And although vampires have always been represented in literature, Twilight brought them back to the front lines of fashion and style – basically they're hot-hot-hot.
The good news is that over 20% of American adults have read an eBook (and this number just continues to grow), and people who own eReaders are 56% more likely to get their reading recommendations from online bookstores and other related websites. (Great news for the wonderfully online and book related community that is BookRix!) And now, the point of this entire blog: What does this mean for the author? I'm going to leave it up to Random House, because they have the perfect answer: "It means that developing your presence and building buzz across a wide range of online platforms where eBook consumers can be reached (including your website, blog, social networks, and reading-focused sites) will become increasingly important as eBook and eReading device adoption continues to grow." – Mina Park, Senior Analyst, Consumer Insights (Click HERE to see entire article)
Do you remember where you were five years ago today? Doubtful. But if you were to ask the guys over at Amazon, we'll bet they'd know exactly where they were. And most likely they could recall what they were wearing, what they ate and what how their day transpired. That's because five years ago today, Amazon, the company known as only an online retailer, made a huge announcement. Something epic, actually. Something so huge, it would change the way the company was perceived. Five years ago today, Amazon launched the Kindle.
You remember now, right? You didn't know exactly how it worked, but it sounded awesome and you wanted it. Along with your mom, your dad and your coworker Alex who always had the latest tech gadget. Then you placed your order and counted down the days until its arrival. A week later, after a horrible day in the office followed by horrendous traffic on the freeway, you walked to your door, keys in hand, completely defeated… and then you saw it. That brown box with a smile stamped on the side. Could it be? Did your day just get a million times better? Yes. Yes it did. There, beneath that cardboard and packaging tape was your glorious Kindle. And you knew, from this day forward, reading would never be the same. And it wasn't.
Oh Kindle… how we love you so. Happy birthday, friend.
Got your Kindle ready? Check out The Vandals by Preston Randall.
Summer's coming to a close and it's time to get ready for high school, but the gang decides to wreck their own neighborhood. Why would they do that?
Are you in the market for a new tablet? If so, get ready to crunch some numbers and start some heavy cross comparison because the tablet competition is gonna get heated. In today's news, we discovered 12 new tablets were emerging. The pressure is on. Which offers more bang for your buck? Which is the fastest? Which has the most advanced features? The questions are endless, but most importantly… which one should you get? We wont bore you with details from each one, but here are some highlights!
Samsung Galaxy Tab:  Measuring 7 inches, the Samsung Galaxy tab runs on Android 2.2, with an ARM processor. Comes with an AMOLED display and is pre-installed with Google Maps, Flash Player, JavaScript 1.5 and has a screen resolution of 1024×600. Also has  Bluetooth and Swype.
Blackberry Playbook: The cost is somewhere around $499 for this creative piece of work. It will come with Wi-Fi connections, Bluetooth technology as well as a front and rear facing camera. The Playbook will not have cellular service but will serve as a sidekick to the BlackBerry smartphones.
Cisco Cius: Hold onto your hats, cause this one seems a little on the pricy side. Coming it at approximately $1100. It's a mobile collaboration business tablet that provides virtual desktop integration. This Android-powered tablet has a 7-inch screen and runs on an Intel Atom processor. It also has a front and rear facing camera. In addition, it supports Wi-Fi and 3G, and offers 32 gigabytes of Flash.
Toshiba Folio 100: This tablet features a dazzling 10.1 –inch screen and runs on Android 2.2 while Nvidia's Tegra 2 processor runs underneath. It includes 16GB of memory, supports Bluetooth 2.1, is equipped with a HDMI output, two USB ports, a SD memory card slot and 3G mobile data connectivity. Holla!
So what do you think? Ready for an upgrade? Share your thoughts below! And while you're at it, check out today's read on your eReader:

Summer had a wonderful husband, a beautiful daughter, Faith, and a successful Interior Design Business. Her husband is killed in an explosion when her daughter was two. Her husband's twin, Braedyn, has always been a part of their lives. But, one day all of their worlds get turn upside down. Summer becomes more dependent on Braedyn and doesn't even realize it. Faith, at 4 years old now, loves having Braedyn around. Braedyn can only see Summer as his dead brother's wife, but sees Faith as his own. Will a crisis bring them all together as a family, tear them apart, or send one of them over the edge?
There's always going to be a debate about Android vs. iPhone and Kindle vs. iPad. It's a given. Lucky for us, we get to use both, so honestly… we get the best of both worlds. But we understand everyone has a preference and we're not here to tell you which one is better. Each have their own strengths, so to each his own.
Today's blog, however, is geared towards those of you utilizing an iPad. We're pretty stoked on the Readmill app on BookRix and we want to be too! After all, it was designed for iPad users specifically, so why not get the most out of BookRix on your eReader? It's a no brainer, too. BookRix users now have the option to download a book directly to their iPad from BookRix with our Readmill app. Next time you open the Readmill app on your iPad, the book will automatically be available to you to read. It's a piece of cake.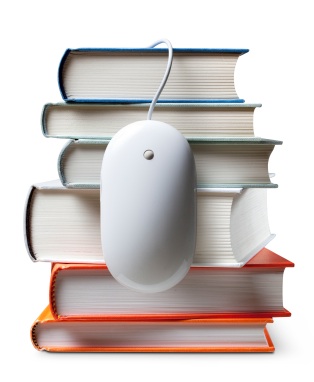 As many of you have noticed, we've recently made some cool changes to our book view. No more arrows to turn the page, just a simple click. Pretty cool, huh? We wanted a modern look that was both sleek and efficient. To ensure the best performance of our site, we recommend that you use the most recent version of your browser for compatibility purposes.  During initial testing, we found that Mozilla Firefox 12.0 as well as Internet Explorer 9 worked best with our most recent updates. If you experience any issues or errors, we advise you to download either of these browsers to fix the issue.
We have also disabled the download function in the BX format. Why did we do this? Well, unfortunately this option was putting a large strain on our servers which often times caused our site to slow down or become unavailable. Most commonly this occurred over the weekend. Members can still read their books "offline" and we're recommending some free programs that allow you to read ePub files on your computer.
There are three options we suggest. The first being Adobe Digital Edition and the other, an add-on for your browser, is EPUBReader. This add-on is used for Mozilla Firefox 12.0 and was chosen because our site runs best with this browser.  Our third recommendation is a program called Calibre.
BookRix is really excited about the new changes we've made and we hope you enjoy them as well. If you have any questions or concerns, please let us know!
-
The BookRIx team