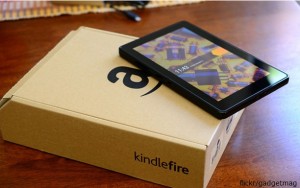 In the last quarter of 2011, Kindle put up a mean fight and took names with their sales numbers. What happened between then and now is anybody's guess. Apple has been flexing their iPad muscles for awhile now in an effort to dominate the tablet market. As a result, the iPad accounts for 68% of the tablet market, according to market-research performed by IDC. What's the deal?
I read quite a few articles and blogs with similar sentiment: Apple beat out the Kindle Fire by a long shot. But then I saw this article by Jeff Bertolucci from PC World that offered a different perspective on Kindle's sales numbers this quarter. Jeff says these numbers are "misleading" and that "many tech bloggers and journalists don't understand the difference between "shipments" and "sales" of a product." After reading his article and digging a little further, it makes more sense.
What are your thoughts?


It's no surprise that eBooks are taking over the publishing market. I know this. I mean, I work for BookRix. ePublishing is what we do! But its one thing to read headlines and eyeball trends, and another thing to witness the evolution with your own eyes.
Earlier this week, I found myself at Starbucks redeeming some old Christmas gift cards that were burning a hole in my wallet. I realize they're four months old, but I tend to frequent my local 'mom & pop' coffee shops more since they need the business. While standing in line contemplating their selection of pastries, I noticed three men standing in front of me. Each of them had an iPad in hand, scrolling away with their fingers. A year ago, these men would've had a Smartphone stuck to their ears, forcing everyone within a 15 foot radius to listen to their one sided phone conversation (I hate that). But on this day, all I could hear was the melancholy crooning of Thom Yorke seeping out from the speakers in the ceiling above me. I'm not gonna lie… I was kind of amazed. Glancing around at the cluster of tables I saw numerous folks captivated by their electronic devices. Without staring, I counted 3 laptops, 2 MP3 players, 1 Smartphone (their finger movement made me think they were playing a game), and 5 eReaders. That's 8 eReaders if I count the 3 in line!
Later the same day, I saw two (separate) women pushing carts through my local grocery store with their iPads propped up in the child's seat. Lists maybe? A few days later at the car wash, I sat among 6 other folks waiting for our vehicles. The woman to my right and her son (at a guess I'd say he was 12) were each using a Kindle Fire. Seeing them so deeply engrossed made me annoyed that I'd left mine at home.
My book consumption is a mixture of old school and new school. I love my Kindle and its lightning fast speed. I'll see a book on Amazon I've been lusting after and within seconds it's mine to enjoy. What's not to like about that? But there are also times when I want nothing more than the feel of a nice soft paperback in my hands. I love the look of a crisp new book and the familiar scent of ink and paper that consumes me as I flip through its pages. It's nice to have options! But one thing is for sure – eReaders are taking the nation by storm. Feeling skeptical? Take a look around.
Which do YOU prefer? eReaders or paper all the way? Comment below and share your thoughts!
As digital publishing explodes, more and more players are tossing their hats into the ring—including authors, publishers and device manufacturers. How is this affecting the long-time industry leader, Amazon?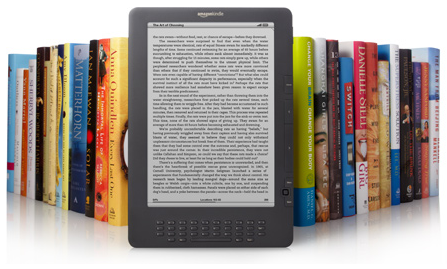 Since launching its revolutionary, best-selling Kindle eReader in 2007, Amazon enjoyed a virtual monopoly on the digital book market until recently. In the third quarter of 2010, the Kindle device retained a smaller, yet still impressive 41.5% market share, representing 1.14 million of 2.7 million eReaders sold during that period.
However, the online giant is rapidly losing ground to up-and-coming competitors like Apple's iPad tablet, Sony, Pandigital, Kobo and the Barnes & Noble Nook, which now claims 25% of the eReader market.
When it comes to eBook sales Amazon still reigns supreme, boasting 950,000 digital titles that represent 60-65% of the market, as announced at BookExpo America last month. This past January, Kindle sales surpassed paperbacks in the Amazon online store and as of one month ago, they are outselling all printed books offered by the company.
If the iPad2 and Nook Color continue gaining in popularity, Amazon will be challenged to maintain its domination of the eReader and eBook markets. They have already responded by offering a lower-priced, ad-supported version of the Kindle, and it will be interesting to see what comes next.
Stay tuned and we'll be sure to keep you updated at Between the Lines, our BookRix blog!
In the past, BookRix has given contest prizes of e-Readers, such as the Kindle for the Worst Nightmares mini-contest (of which Gooduklady was the lucky and talented winner) and soon an iPad in the Dear Diary contest! But did you know you can download e-books from BookRix to your e-Reader? It's fairly easy to do so regardless of if you have a Kindle, Nook, iPad or other e-Reader!
It's as simple as going to the book on BookRix that you want to read and hit the Download/E-Reader button on the right below the book cover (see image below). Follow the prompts to download the book to your computer or your e-Reader device.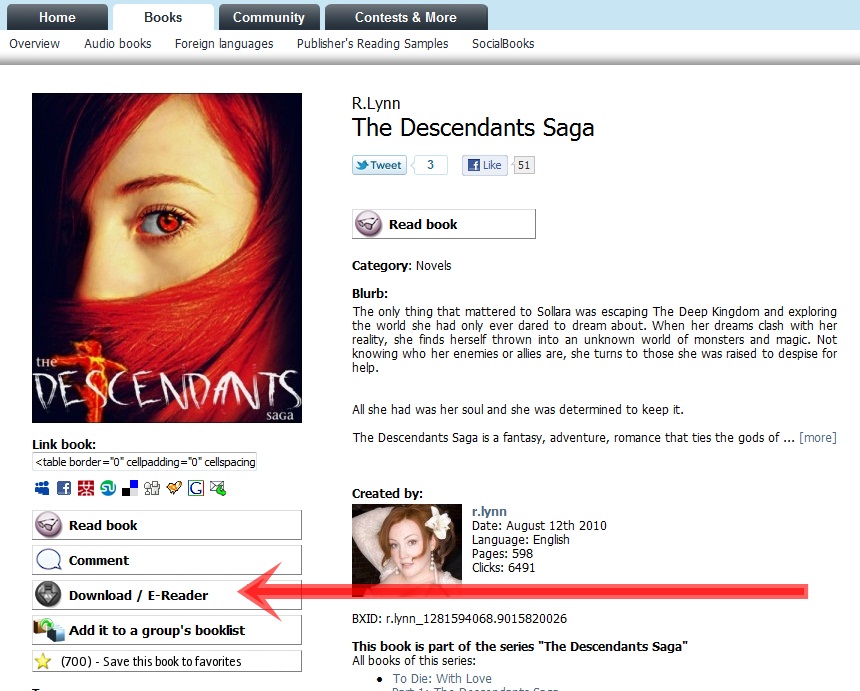 For most e-Readers, you're set to go because your e-Reader accepts the ePub file format. For the Kindle however, you will need to convert the ePub files to Kindle-friendly formats like .mobi. To do so, you will need the help of third party conversion software programs like Calibre and Mobipocket. There may be some formatting that does not convert well, but that mostly occurs with complicated layouts or formatting. Once you have converted the e-book into a Kindle-friendly format, you're on your way to enjoy your free e-books. With thousands of books and e-books in our online library to choose from on BookRix.com, you're sure to find several e-books that e-xcite you!
Have a favorite book or author online on BookRix? Share it in a comment here on this blog post!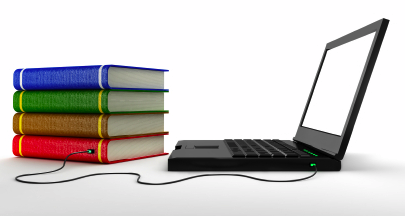 This seems to be the year that the digital revolution is posed to take over the publishing world, here and overseas.
In a recent press release, the Association of American Publishers reported that in January 2011, U.S. net sales of e-books surged by 115.8% over the same month last year, more than doubling from $32.4 to $69.9 million. Total book sales were slightly lower, with both hardcover and paperback book sales declining significantly.
Across the pond, digital, print-on-demand and self-publishing have boosted the production of new book titles in the UK, up 14% from 2009 to 2010 (133,000 to 151,969), according to Bookseller.com. The article states, "The figure is derived from the number of ISBNs Nielsen issues over the year. However, the 2009 figure has since been increased to 157,039 because of the late addition of digital titles in that year, a factor that may also further increase the 2010 figure." Last year also saw 3,151 new UK publishers registering for an ISBN, a 10-year high, compared to 3,007 in 2009—an increase attributed primarily to self-publishing authors.
Meanwhile, everyone wants a piece of the e-book pie. For instance, Barnes & Noble is expanding its PubIt! digital publishing platform for the NOOK format, Amazon's new AmazonEncore distribution program helps self-published authors get more exposure across various channels, and even the perennial page layout software application QuarkXPress has been overhauled to let publishers catch the next wave of digital content production.
Also riding the crest of the digital self-publishing juggernaut is our own BookRix.com online author/reader community that has grown from zero to more than 15,500 digital uploads since launching just 2.5 years ago. As a BookRix member, aren't you proud to be on the cutting edge of the future of book publishing? We are!
What are your thoughts and concerns as the world of publishing keeps changing?