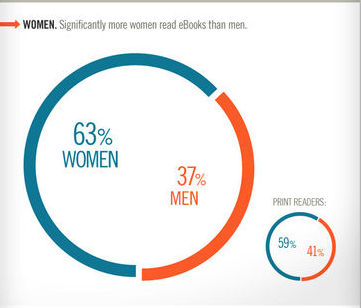 When you're thinking about marketing your book, you should know more about your consumer and how many people out there are actually reading eBooks. To determine how publishers and authors are going to adapt to this digitally savvy target group, Random House wrote an article that puts the e-book reader under the microscope. Some very interesting facts were revealed, for example, women are reading 10-20% more than men. For eBooks, 63% of readers are women. Hmm, could that possibly be the reason why Danielle Steel and E. L. James are enjoying long weekends at their vacation homes in the tropics? Kind of makes you want to add a little romance into your novel, doesn't it? Honestly, that wouldn't be a bad move. Thinking about real life hormones, does anyone really get through any event in their life without libido getting in the way somehow? So why wouldn't your zombie novel have at least two characters becoming romantically involved in the midst of the blood and gore of the apocalypse? A little chemistry goes a long way.
What does this mean for authors?
Well, it means that developing your presence and building buzz across a wide range of online platforms where eBook consumers can be reached (including your website, blog, social networks, and reading-focused sites) will become increasingly important as eBook and eReading device adoption continues to grow.  -Random House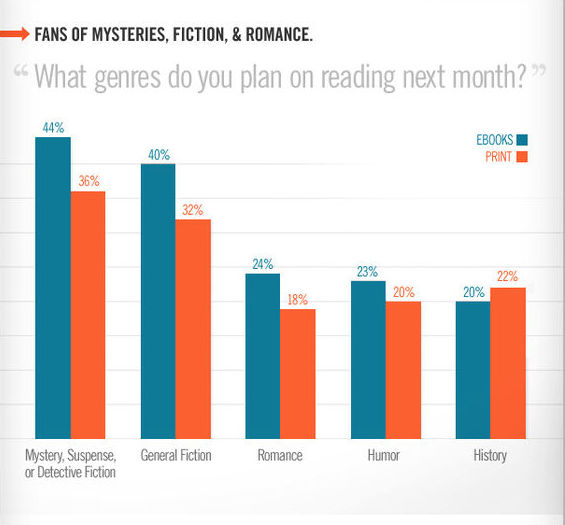 Random House also shared that 60% of eBook readers are under 45 years of age, 66% of eBook readers have a degree, people who read eBooks have a higher income than those that read print books, eBook readers spend less on each book they purchase, and the most popular genre is Mystery & Suspense. Don't get discouraged if you're writing a Science Fiction novel about an elderly man who doesn't have words in his vocabulary that exceed three-syllables. There is still a market out there for you, it just might be a little smaller. And don't forget – the statistics surrounding most popular genre are constantly in flux due to ever-changing trends. When Fifty Shades of Grey came out, the popularity of Erotica went through the roof. And although vampires have always been represented in literature, Twilight brought them back to the front lines of fashion and style – basically they're hot-hot-hot.
The good news is that over 20% of American adults have read an eBook (and this number just continues to grow), and people who own eReaders are 56% more likely to get their reading recommendations from online bookstores and other related websites. (Great news for the wonderfully online and book related community that is BookRix!) And now, the point of this entire blog: What does this mean for the author? I'm going to leave it up to Random House, because they have the perfect answer: "It means that developing your presence and building buzz across a wide range of online platforms where eBook consumers can be reached (including your website, blog, social networks, and reading-focused sites) will become increasingly important as eBook and eReading device adoption continues to grow." – Mina Park, Senior Analyst, Consumer Insights (Click HERE to see entire article)
Turn that frown upside down!
Okay, so we all know rejection is a part of life, right? But that doesn't mean that we have to be happy about it. It's going to sting at first, so you've got to learn how to deal with it and use it to your advantage. Nobody in their right mind is going to get excited about a bad review or a rejection letter, but there is always something good to take away from bad news: Improvement. If you have a lot of criticism early on, then you have time to make changes that could save you from further rejections.
Keep in mind that a rejection might not even have anything to do with your skill as a writer. It might be that the publisher or magazine was looking for something specific and your story/book/poem just wasn't the right fit. Don't ever give up.

I like to think about J. K. Rowling or The Beatles each time I'm warming my hands over the rejection letter burning brightly in my fireplace. Before she found Bloomsbury, Rowling submitted the Harry Potter manuscript to twelve different publishing houses, only to be rejected by every single one of them. Before Parlophone snatched them up, The Beatles were rejected consistently for the first few months when they tried to find a label who would sign them. As a lover of Hogwarts and of Yellow Submarine, I can't imagine what would have happened if any of them had given up. In the end, you won't remember all the rejection letters, you'll only remember your writing that succeeded.
These days, rejection comes in all sorts of guises. As self-published authors, you will experience rejection and criticism from a wide variety of sources, including customer reviews, one star Amazon reviews, the social media world (Facebook, Twitter, etc.), blogs, and the worst possible rejection: Not selling any books at all. I don't want to tell you that this is good news, because it's going to suck…a lot. However, with traditional publishing, you submit your book to a big publishing house, only to receive a generic rejection letter that is seriously lacking insight into any reason WHY your book isn't going to be this year's best seller. With eBooks and self-publishing, you've already got tech saavy readers who, more often than not, are going to leave you a real live review. Amazon, Kobo, Facebook, Twitter and book review blogs are all going to be your source for constructive criticism.
"We are what we repeatedly do. Excellence, therefore, is not an act but a habit."
—Aristotle
You're going to take all that negativity and use it to push your book to perfection. Or as close to perfection as you can manage because, let's face it, we are all hopelessly flawed. Oh, and perfection is boring.
Here are some things to remember when the time comes to deal with, and make improvements based on, rejections and bad reviews:
1. Don't be afraid to put yourself out there. How can you "try, try again" if you're too scared to even share your book?
2. Keep in mind that the odds are against you. As writers, we have to scratch our way out of the scuffle and make ourselves known. Considering the amount of aspiring authors out there, how can any of us expect to come out on top after just one try.
3. Don't focus on it. Think about the negative review and process your reaction (let yourself feel sad or angry) but then quickly move on to solving the problem at hand. Turn all that negativity into positive energy!
4. Don't listen to everybody – only listen to a critic who gives you examples and knows what they're talking about. The question to ask yourself is: "Do they have a point?" Don't assume all criticism is well founded.
5. Rely on your chosen community of writers – BookRix, for example, is a great place to get the RIGHT kind of encouragement and constructive criticism.
6. If you're going to compare yourself to others, don't get carried away. You don't want to become something you're not, or your readers will miss out on your originality. Just because a couple of people don't like your writing style, doesn't mean a thousand more won't love it.
7. If you lost perspective along the way, criticism can help. Chances are, you love what you write and never even noticed all those little glitches.
8. Work on something new. Grab that bag-o-ideas off the top shelf and hit "refresh" on your brain. Take a break from all the reviews and rejections for a few days and just remind yourself why you love writing so darn much.