Awhile back you decided to write a book. So you created an outline, focused on character development and toyed with the plot.  You made some writing headway, but somewhere between Chapter 4 and Chapter 7 you lost your way. Don't beat yourself up. Being plagued by writers block is relatively common and it can be difficult to get back on your creative track. Here are some tips to help get your head back in the writing game.
Messy workspace, messy mind
Having a buildup of clutter surrounding your writing area can be more detrimental than you might think. Take a look at the area you write in and make an effort to clean up shop. Some simple organization can have a huge impact on your thought process
Manage Your Time Effectively
We've all got things to do. Pay bills, grocery shopping, laundry, etc. That's life. But the same way you carve out time to eat and make your appointments, you need to make time for your writing. Commit to a time each day and stick to it. Treat it with the same seriousness as a job.
Go Offline
Laptops can be a blessing and a curse. They're portable, sleek, and far more effective than typewriters. But let's face it, when you've got writers block, the internet is the biggest distraction of all time. Whether you're checking your email, ordering new ink cartridges (they're on sale!) or reading CNN headlines, you can veer off track without even realizing it. Prevent the issue before it starts and turn your wifi off during writing hours.
Writing Exercises and Brainstorming
Writers block can make you feel like you're trapped in a box. So step outside of it completely and work on a writing exercise. Not sure what to write about? Try some of these.
Work Out of Order
When taking a timed test in school, chances are you skipped the questions you had difficulty with in order to answer the ones you knew. So try applying this tactic with your writing. Skip ahead to a section you're excited to write about and then circle back. It helps clear your head and also keeps you focused on your story.
Mental Clarity
Sometimes the best way to achieve mental clarity is to step away from your desk and get some fresh air. We're not saying you should spend the day at the beach, but a 30 minute walk or bike ride can certainly clear the mind.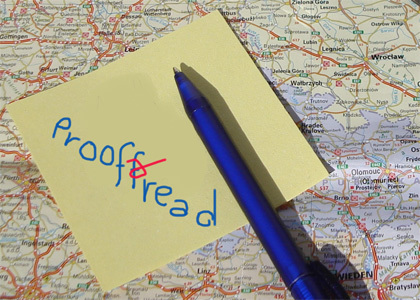 If you've ever weight trained, or know someone who has, you know the first rule: Always have a spotter. A spotter's job is to support the person lifting weights. If the lifter is unable to physically handle the weight, the spotter is there to help. Having this type of assistance is a safety precaution that can eliminate injuries. This same principal, although slightly different, applies to writers. They should always have a proof reader. Sure, a writer isn't going to tear a ligament by not having second set of eyes scan their work. But they could easily damage their reputation with undetected written mistakes if they opt out of having their book proofed. So why throw caution to the wind on something your as precious as your notoriety? Simple: You don't.
It's not uncommon to get apprehensive at the thought of having your work critiqued. But before unnecessary anxiety sets in, remember that almost every reputable author has an editor. Someone to add an apostrophe, mark a run on sentence, or simply tell you the dialogue needs work. Whatever the case may be, it's worth it. When you write a story, the content is coming solely from you, so of course all the pieces come together and make sense in your mind. But to a third party, it might need some clarification. Ultimately as the writer and creator, you have the final say in the changes you incorporate. A proofreader's goal isn't to change your vision, but rather to ensure it's received in its best form. It's just one more step towards getting your book ready for publishing. So reach out to someone you trust (friend, family member, work associate, BookRix member, etc), and ask them to lend you their expertise.
….and while someone is proofing your work, why not shift your focus to BookRix Author Patrick Sean Lee and delve into The Redemption of Marvin Fuster. Clever and well written, a very enjoyable read.
It's (not its) Grammar Day!
March 4th is Grammar Day, so we'd like to share our Grammar Lesson #1, in hopes that later on, we will share Lesson #2. I know that grammar lessons can be boring and often lead to napping instead of learning, but I'm here to say, "WAKE UP!" because you don't know everything about grammar yet!
A few months ago, we shared a helpful blog, How To Avoid Common Writing Mistakes, in hopes that we could put an end to those pesky mistakes. Alas, it seems that the BookRix Grammar Police will never be able to use their vacation time because they can't even go off-duty for a second without one writer or another bungling up the English language. Here is an example of inappropriate grammar behavior:
Offence #1: Inappropriate Apostrophes – I know I do this all the time – there are certain words that just beg for apostrophes when they're not necessary. I am constantly writing "author's" when I'm really just talking about more than one of you. Keep in mind that the only time you use them is when the 's = is or when the 's = possession.
For example:
- There are seven authors entered in the competition. (requires NO apostrophe because it is a simple pluralization)
- The author's about to enter the contest! (requires an apostrophe because it is really "author is")
- The author's book didn't win the competition. (requires an apostrophe because the book belongs (is possessed by) the author)
- The authors' were all hoping to win the grand prize. (requires an apostrophe after the word because it is possessive and pluralized)
This problem is so great that there are at least two blogs devoted to pointing out the world's mistakes.
Apostrophe Catastrophes and Apostrophe Abuse
Offence #2: Inappropriate Quotation Marks – I'm very adament about not overusing, or misusing, quotation marks and it drives me up the wall when I see inappropriate quotation marks. They are called quotation marks for a reason. They should be used to show off material that represents quoted or spoken language. They can also be used to show titles of things that don't normally stand by themselves, like short stories, poems, and articles. Unfortunately, they are often misused and make text appear sarcastic.
For example:
- We are very "sorry" for your loss. (This doesn't make it seem like we are physically saying, "Sorry," instead it makes it seem like we're not really sorry at all.)
Check out The "Blog" of Unnecessary "Quotation" Marks for some hilarious examples.
Offence #3: Inappropriate Commas – There are so many rules, that it feels near impossible to keep up. It's best to print out the rules and keep them next to you. Our blog is too short to include them all, so here is a link to GrammarBook.com's section about Commas. Basically, the greatest advice about commas is to use them with caution because their greatest offense is OVERUSE.
Offence #4: Inappropriate Homonyms – Homonyms are words that sound alike but have different meanings. Sometimes, they're also spelled differently. If you mix them up it can cause confusion (for the reader) and embarrassment (for you).
For example: She pulled out a bow and handed it to him. Well, if this is a hair bow, she obviously wants help with her up-do, but if she is pulling out the weapon (as in bow and arrow) then we'll know that they are about to have an adventure.
Their/they're/there and To/Two/Too are good examples of ways for writers to embarrass themselves. If you don't know the difference, or find yourself often using the wrong one by mistake – practice! If that still doesn't help, get an editor who knows the difference to save you from the endless criticism that these mistakes will bring you.
Click HERE to see some more examples.