Cracking the Amazon Algorithms
Joanna Penn, author, internet entrepreneur and international speaker, recently broke down David Gaughran's book, Let's Get Visible: How to Get Noticed and Sell More Books. Her article explains that Gaughran's book will make it easier for self-published authors to understand the basics of achieving successful eBook sales, or at least optimizing them. David Gaughran is an author/blogger known for his in-depth, critical and intelligent analysis of the publishing world.
Basically Joanna says that there are two main ways for people to find your eBooks:

1. Through your eBook
Most people buy the majority of their books from authors that they know nothing about. These sales have nothing to do with the author's "platform". Your "platform" is more about putting in consistent, focused effort over the course of a career, and making incremental improvements in extending your network. It's about making waves that attract other people to you—not about begging others to pay attention. (To learn more about "platforms" read THIS article.)
2. Through you (the author)
This is all about your platform and how you reach people in the world. Joanna believes that #2 is important, having spent a lot of time and effort building her own platform and it changed her life. (Sounding familiar authors?)  She is a full-time author-entrepreneur because of her website. (Ahem – Authors: GET YOUR OWN BLOG/WEBSITE!) However, she says that she definitely sells more books to people who haven't got a clue who she is and nor do they care.
Another important point is:
Readers shopping on Amazon buy more books!
Here is what Joanna says she learned from the book:
(1) Amazon algorithms are different for different charts and different territories
I'm not one of those people who likes to track data, but I have known for a long time how important the Amazon algorithms are for selling books. What I didn't know was the difference between the Sales Rank, the Recommendation Engine, Bestseller Lists, Popularity lists, Top-Rated in Categories, Hot New Releases, Movers & Shakers and all the other ways you can target the lists and prime the sales pump.
(2) Staggering your launch is better for long-term sales than a big initial spike
A few years back there was a boom in 'Amazon Bestseller' promos where people would try to spike sales on one day, hit the charts and that would make everything a success. However, Amazon's whole aim is to give people fantastic content and those kinds of programs were boosting books that didn't necessarily deserve visibility. David talks about how the algorithm now pushes those books back down as fast as they rose, so when you launch, you want to have a slow start, with sales spaced out over time. He has a lot of specific ideas around the launch, definitely worth taking note of.

There's also a great section on free pulsing and price pulsing which you should read if you're still confused about ebook pricing! Plus a detailed method of evaluating paid advertising and doing group promotions.
Joanna also mentions that Gaughran's book emphasizes that most of the strategies are only effective if you have more than 2 or 3 sale books (so get publishing!).  Joanna says that it's really important to "remember that one of the best ways to sell more books is to write more books!"
To read the full article, visit Joanna's website, The Creative Penn.
Awhile back you decided to write a book. So you created an outline, focused on character development and toyed with the plot.  You made some writing headway, but somewhere between Chapter 4 and Chapter 7 you lost your way. Don't beat yourself up. Being plagued by writers block is relatively common and it can be difficult to get back on your creative track. Here are some tips to help get your head back in the writing game.
Messy workspace, messy mind
Having a buildup of clutter surrounding your writing area can be more detrimental than you might think. Take a look at the area you write in and make an effort to clean up shop. Some simple organization can have a huge impact on your thought process
Manage Your Time Effectively
We've all got things to do. Pay bills, grocery shopping, laundry, etc. That's life. But the same way you carve out time to eat and make your appointments, you need to make time for your writing. Commit to a time each day and stick to it. Treat it with the same seriousness as a job.
Go Offline
Laptops can be a blessing and a curse. They're portable, sleek, and far more effective than typewriters. But let's face it, when you've got writers block, the internet is the biggest distraction of all time. Whether you're checking your email, ordering new ink cartridges (they're on sale!) or reading CNN headlines, you can veer off track without even realizing it. Prevent the issue before it starts and turn your wifi off during writing hours.
Writing Exercises and Brainstorming
Writers block can make you feel like you're trapped in a box. So step outside of it completely and work on a writing exercise. Not sure what to write about? Try some of these.
Work Out of Order
When taking a timed test in school, chances are you skipped the questions you had difficulty with in order to answer the ones you knew. So try applying this tactic with your writing. Skip ahead to a section you're excited to write about and then circle back. It helps clear your head and also keeps you focused on your story.
Mental Clarity
Sometimes the best way to achieve mental clarity is to step away from your desk and get some fresh air. We're not saying you should spend the day at the beach, but a 30 minute walk or bike ride can certainly clear the mind.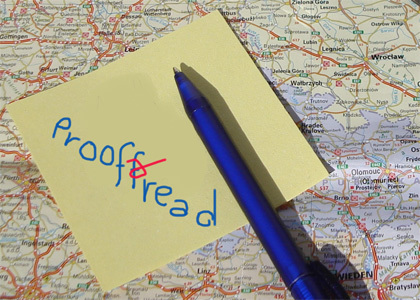 If you've ever weight trained, or know someone who has, you know the first rule: Always have a spotter. A spotter's job is to support the person lifting weights. If the lifter is unable to physically handle the weight, the spotter is there to help. Having this type of assistance is a safety precaution that can eliminate injuries. This same principal, although slightly different, applies to writers. They should always have a proof reader. Sure, a writer isn't going to tear a ligament by not having second set of eyes scan their work. But they could easily damage their reputation with undetected written mistakes if they opt out of having their book proofed. So why throw caution to the wind on something your as precious as your notoriety? Simple: You don't.
It's not uncommon to get apprehensive at the thought of having your work critiqued. But before unnecessary anxiety sets in, remember that almost every reputable author has an editor. Someone to add an apostrophe, mark a run on sentence, or simply tell you the dialogue needs work. Whatever the case may be, it's worth it. When you write a story, the content is coming solely from you, so of course all the pieces come together and make sense in your mind. But to a third party, it might need some clarification. Ultimately as the writer and creator, you have the final say in the changes you incorporate. A proofreader's goal isn't to change your vision, but rather to ensure it's received in its best form. It's just one more step towards getting your book ready for publishing. So reach out to someone you trust (friend, family member, work associate, BookRix member, etc), and ask them to lend you their expertise.
….and while someone is proofing your work, why not shift your focus to BookRix Author Patrick Sean Lee and delve into The Redemption of Marvin Fuster. Clever and well written, a very enjoyable read.