Published
April 8th, 2013
|
By
BookRix


Follow The Crystal Palace Chronicles Part One: Heroes and Hearts as it goes on tour.
Each stop will share one or more of the following: A review, an interview, a giveaway, a guest post or a PROMO.
The Virtual Book Tour is on NOW!
April 8 – May 3
The Crystal Palace Chronicles Part Two: The Descendants of Quendaris is set to release on May 3rd, so now is your chance to get caught up on the story!
Over
$300

in giveaway prizes!

Heroes and Hearts a Romance/Fantasy Adventure by Noemi Betancourt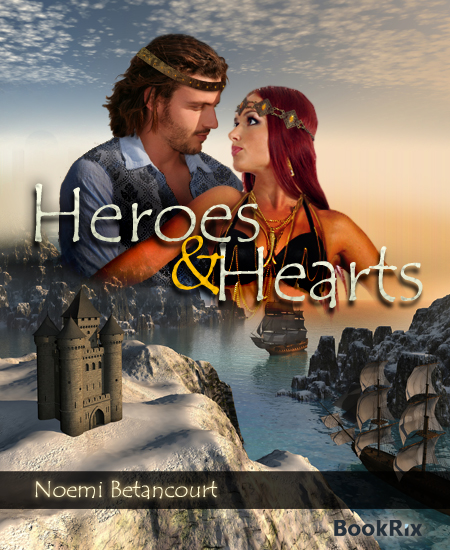 Isabel Kendra is no stranger to a life of struggle. When her father disappeared years ago she and her mother had to fend for themselves. Even now as a chef experiencing burn out on the job, she does what is necessary to pay her bills while dodging her mother's attempts to find her a man. She is more than capable of taking care of herself and neither wants or needs some man to do it for her.
When Isabel comes home one day to find her house turned upside down she discovers her life is about to follow suit in this tale of swords and sorcery, love and prejudice. Prince Alaric is dashing, handsome and brave, everything a prince should be. He is also no stranger to the female form, yet when he meets the bold and vivacious Isabel, rather than be put off by her lack of docility he finds himself drawn to her allure in a way that he simply cannot understand.
Together the two must thwart the evil forces that threaten their lives and their worlds, while struggling against their own blistering attraction for each other. Can Isabel balance her aversion to the prince's habit of coming to her rescue with the realization that sometimes it is all right to accept help from a man? And can Alaric handle himself around a damsel who gets herself out of her own distress and learn to be simply the man who loves her?
April 8 – Reading Addiction Blog Tours – Meet and Greet
April 9 – Bunny's Reviews – Guest Post/Giveaway/PROMO
$10 Amazon Gift Card + eBook – Leave a comment to participate.
April 10 – The Book Faery Reviews – Guest Post/Giveaway/PROMO
$10 Amazon Gift Card + eBook – Available until the end of April.
April 11 – Book Marks the Spot – Giveaway/PROMO
$10 Amazon Gift Card + eBook – Leave a comment to participate.
April 12 – My Pathway to Books – Review
April 13 – Must Read Faster – Guest Post/PROMO
April 14 – Noemi Bentancourt's Author Blog – Guest Post – An Exclusive Interview
April 15 – BookRix – Review/Giveaway
$100 Amazon Gift Card + Heroes and Hearts swag + BookRix Sampler Pack – ON NOW!
April 16 – My Reading Addiction – Review
April 17 – The Between – Review
April 18 – Laurie's Thoughts and Reviews – PROMO
April 19 – Author Ever Leigh – Review
April 20 – Texas Book Nook – Review
April 22 – Feed My Need, For a Good Read – PROMO
April 23 – The Avid Reader – PROMO/Giveaway
$10 Amazon Gift Card + eBook at the author's website: Noemi Betancourt
April 25 – My Cozie Corner – Review
April 26 – Words I Write Crazy – Review/Giveaway
$25 Amazon Gift Card + eBook
April 27 – Magnolia Blossom Review – Review/Interview/Giveaway
$25 Amazon Gift Card + eBook
April 28 – Inside BJ's Head – Review/Giveaway
$25 Amazon Gift Card + eBook
April 29 – The Serial Reader – Review/Interview
April 30 – pending
May 1 – Book Maven – Review
May 2 – Faerie Tale Books – Review/Giveaway/Guest Post
$25 Amazon Gift Card + eBook
May 3 – RABT Reviews – Review
May 6 – Announce the BookRix big giveaway winner!
If you're interested in participating in a BookRix blog tour or just want to learn more, please leave your name and email, along with a brief message, in the comment area below.

Special thanks to Reading Addiction Blog Tours for all their help.











BookRix is hosting its first book blog tour, thanks to the help of Reading Addiction Blog Tours and BookRix author, Jess Wygle. If you don't already know about book blog tours, I'm here to get you in the know. Basically, it's just like a real book tour, but instead of sending the author and the book to a series of cities in the span of a month, we are sending Jess Wygle and her book, Evol, to 20+ book blogs between today, February 22nd and March 24th. Each stop on the tour will feature one or more of the following:
1. A book review – to get readers interested in the book, and to give everyone a better understanding of what happens in the story.
2. An author interview – to learn more about Jess and her writing.
3. A guest post - with something fun written by Jess on an assortment of topics.
4. A PROMO – to, well, promote.
There will also be giveaways (at almost every single stop!) offering prizes like $10-$25 Amazon gift cards, free eBooks, t-shirts and the final big giveaway from the BookRix blog will be a $100 Amazon gift card and an assortment of eBooks. Basically, you're going to want to follow Jess around on her tour and you're going to want to buy her book.
This is the best way to show your support for indie authors (like yourselves) who are trying to promote their self-published books (like yours) and live the dream (which is the same as yours)… I think you know where I'm going with this. Tell your friends and help us make our first blog tour a successful one. Who knows, you might be the next one chosen to go on tour?
Visit the tour schedule by clicking HERE. The BookRix stop is on Monday, February 25th. You'll also find that some of your fellow community members are hosting at their blogs.

We can never learn enough about the authors who write our favorite books, but I'm out to try my best. Here are some fun questions I asked John C. Laird (alsam2) author of 16 BookRix books.
1. When did you first realize you wanted to be a writer?
In high school. Several of my friends enjoyed a few of the stories I wrote and encouraged me on. I continued writing my first couple of years of college but never really became serious about it. Then life proceeded to get in the way and several decades passed before I decided it was now or never. That was about two and a half years ago, and now I shall ride this wave all the way to the end.


2. What do you like to do when you're not writing?
Although retired after 30-years in law enforcement, I still work part time as a private mail courier. And believe it or not, I still have two teenagers at home, ages 17 and 15 (girl and boy). Enough said on that. But I do like jogging with my black Labrador, Jaxon, and enjoy a good game of chess. And I have found several good chess players on BookRix. As a matter of fact I'm in the middle of two games right now, with the outcome still up in the air on both.
3. How many books have you written? Which is your favorite?
Seventeen. But picking a favorite is a tough one. Every one of my stories has a part of my heart and soul in it, to one degree or another, an experience I'm sure all writers have. For me, probably the three I've currently e-published through BookRix , took the most out of me: "Redemption", "You Get What You Pay For", and "Going Home". Of those three, "Going Home" taxed me the most. Every time I'd go back to revise and edit, I'd get tears in my eyes. For me, it was a tough one to write emotionally.
4. Is anything in your book(s) based on real life experiences or purely all
imagination?
Both. The three I mentioned above were entirely fictional (although the basketball arena in "Going Home" is real). Others have varying 'chunks' of real life experiences in them. The whole first half of "Turn Around When Possible" was based on a real vacation in 2012. In other stories I have taken a particular incident and let may imagination run with it.
5. What is your favorite book? Why?
"The Black Rose" by Thomas B. Costain, 1945. Set in medieval England, it is an 'epic' (a measly 400 pages) romance that spans the world from England to China and back, the separation of the two true loves, and the struggle of one to return home to be reunited with her love. I don't know how to explain it–the trials, tribulations and 'sweep' of the story just got to me.
6. Do you have any advice to give to aspiring writers?
What advice can I give that hasn't been given over and over? Let's go with this: Imagination, desire and stamina can take you a long way, but if you want to increase your readership and be a success, you have to learn the rules. Yes, gang, that means
proper grammar, spelling, tenses, punctuation, etc., etc., etc. If you don't write it properly, don't expect many people to read it (other than your family and friends). And don't forget to edit when you're done. Then edit again. Writing may be fun, but there is a 'work' component to it.
Now it's time to move onto some questions that are just for fun:
7. If you were written about in the newspaper, on the front page, what would the headline say?
"J.C. Laird Vaults Past Stephen King With New Best Seller". Ahhhhhh, the wonders of the imagination…
8. If you won $20 million in the lottery, what would you do with the money?
A big chunk would be immediately invested to provide for the future. There also would be quite a bit of traveling on the agenda. A few luxuries and then I would give some away. One of my favorite TV shows when I was young was the "The Millionaire" in good ol' black and white. An anonymous millionaire would give away one million dollars to someone or to couples and the stories would revolve around how the money would affect the people (not always good). The stories fascinated me.
9. What would I find in your refrigerator right now?
A little bit of everything. All the shelves are filled. My wife and daughter have special diets because of health issues, so the problem for my son and I have is finding something in particular we're looking for and how long that something has been in there. It's usually an adventure.
10. If you were a Star Trek or Star Wars character, which one would it be? Why?
Star Trek: Pavel Chekov. Just being realistic. I would have been good at all the things he was in charge of, from the original series through several movies: Navigator (TOS); Weapons Officer (I); First Officer, USS Reliant (II); Navigator, Weapons Officer, and Chief of Security (III-VI)
11. If you could have been told one thing that you weren't told when you were a teenager, what would you like to have heard?
"This too, shall pass," and "Time heals all wounds." All the trials and tribulations of a dysfunctional family life, broken hearts and romances; it would have been nice to know I would outgrow all of it.
12. If you were to name one piece of clothing that describes you, what would you say?
Sweat shirt. Add a pair of sweat pants and you'd have the complete ensemble (wearing that combo right now).
13. What cartoon character best represents your personal philosophy?
Wile E. Coyote, for his determination and persistence. We won't talk about his continual failure to succeed in catching the Roadrunner. Let's stick with the positive.
14. Why am I asking you these questions?
To give me a headache. You're a sadist.
15. Where is the furthest you have ever traveled to?
Bermuda. Told you I'd use some of the money to travel more.
16. What is your favorite unusual food combination?
Green chile in most everything. In New Mexico, the question is red or green? I prefer green: on my cheeseburgers and sandwiches, in my soup, my omelets, in my mash potatoes; you get the idea and can imagine the combinations. Haven't tried it in ice cream yet, though…
17. If you had to be a teacher of something, what would you teach?
History. Always loved it; it was my major in college and I was going to be a teacher of it. Turned out I didn't have the temperament for that line of work. My tolerance for
juvenile delinquents was/is pretty low; I would have gotten sued somewhere along the way if I had continued.
18. You were bitten by a vampire, now what? (Or werewolf)
Put me out of my misery: if a vampire, put a stake through my heart. If a werewolf, shoot me with a silver bullet. If a zombie, shoot me in the head. Unlike some of the younger generation, I wouldn't want to become any of them. Uck, disgusting.
19. As a child, what did you want to do when you grew up?
Believe it or not, a marine biologist. The ocean and the life it contained fascinated me. One of my favorite childhood TV series was "Sea Hunt" with Lloyd Bridges. Black and white, of course.
20. What is your #1 guilty pleasure?
Chocolate. What can I say?
Well, now I really want some chocolate…
Thanks to John for answering my questions – if you want to check out more of his books, just stop by his profile page by clicking HERE.
Posted in

BookRix, BookRix Community, Featured Authors, Featured Books, Interviews
|
Tagged

alsam2, BookRix author interview, Going Home, Interviews, John C. Laird, Redemption, You get what you pay for
|
4 Comments