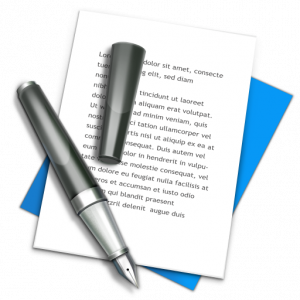 You know that warm fuzzy feeling you get when you're comfortable with something? Whether it's a restaurant, a bar, a nature hike, or an author you can always rely on for good material, consistency is key. Its nice to rely on things, and sometimes having the 'same old, same old' just feels right. If it ain't broke, don't fix it, right? Well…
We're not gonna come out and say that our previous text editor on BookRix.com wasn't awesome. Ok, wait. Let's just say it was so-so. Good for what it was, but in need of some fine tuning. Our members wouldn't describe it as "phenomenal"  and they wouldn't exactly brag to their friends about how awesome it was. I think what we're trying to say here, nicely of course, is that our previous text editor left room (a lot of room, actually) for improvement. So we took it upon ourselves to fine tune it. Introducing….. (drum roll please!) BookRix's advanced text editor!
<end drum roll/>
Creating a book with the updated advancements should be a breeze. You can format text, add images, insert page breaks or new chapters in an easy to use, streamlined fashion. We know change can be scary. But this minor facelift is going to make your lives easier. We promise! Not convinced? Check out our how-to guide here. We're confident you're gonna dig it. Give it a try and let us know what you think.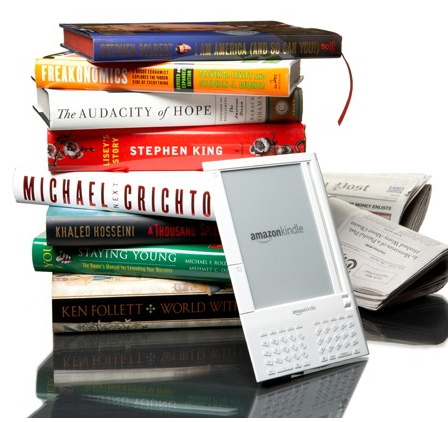 Recently I heard about Amazon's beta launch of @author and it got me thinking. Sadly my initial reaction was more Negative Nancy than Positive Polly. I couldn't help but think how obnoxious this new feature could be, and I found myself thankful not to be a published author. If you're unfamiliar with @author, allow me to break it down for you.
First things first, you'll need to own a Kindle as well as a Twitter account (which must be synced together). Got 'em both? Let the author nagging commence! Say you're reading a self help book on your Kindle and one of the self improvement exercises seems a little vague or unclear. Hell, maybe you even disagree with it. With the @author feature, you can highlight the specified text and send it directly to the author along with your question and/or comment. Sure, you're limited to 100 characters, and who knows if you'll actually get a response. But at least you're no longer tweeting to an author who has to filter through pages of @mentions and spam, right? Well, let's hope some spam filters are in place.
In my worst-case-scenario brain, I envision this as just another avenue for folks to troll and flame their favorite (or least favorite) literary wordsmith. Throw in the occasional nagging question "what did you mean by (insert euphemism here)?" or comments "What the hell were you thinking when you…." and this shiny new feature sounds like the Pandora's Box of social media for authors. Ugh.
Let's hope these beta tests go off without a hitch and the authors involved don't go running for the hills. #BestOfLuck guys. I think you'll need it.
Posted in
BookRix
|
Tagged

@mentions, Amazon, author, beta, euphemism, flame, hightlight the specific text, Kindle, Negative Nancy, Pandora's Box, Positive Polly, published author, self improvement, spam, troll, Twitter, worst-case-scenario
|
Leave a comment
Published
October 1st, 2009
|
By
BookRix
  – "There is nothing impossible to him who will try." – Alexander The Great –
  Believing in your abilities goes a long way as a writer. I posted this quote on a sticky note beside my computer. It comes in handy when the agony of writer's block takes over. I procrastinate, distract myself and find twenty things to do other than write. The screen remains blank until my muse returns.
  This saying is also useful when I receive rejection letters from publishers. Writing the "Great American Novel" is a desirable goal. However, how many of us invest the time and effort to make this dream a reality?
 One of my first creative writing instructors told me that my work was good enough to publish. I sent out submissions to magazines and journals.
  I was having coffee with a friend who asked me how the writing was going. "I don't think I'm cut out to be an author," I said. "I got rejected three times from this art magazine."
  She shook her head. "You're giving up after three rejection letters? Go and talk to them. Introduce yourself and keep sending them your writing!"
  Soon after I was published in that magazine and other print publications as well. I also taught creative writing and began to write more complex, longer works.
  It's great to have the talent to write, but monetary success partially depends on marketing skills. It would be a perfect world, if we all had agents and publishers looking out for our best interests. However, the reality is no one will know you as a writer unless you put yourself out there. In ways, it's like running a business.
  So you've fostered your writing and found a unique voice. Perhaps you've shown your stories and/or poems to fellow writers and received advice and suggestions. You've taken writing courses and participated in writers' forums. Now is the time to approach publishers if that is your goal.
  Make sure your work is the best it can be. Judge it not as the author, but as a skeptical reader. What makes it memorable? What is not essential? Who is your audience?
  Skill as a writer can be learned. Natural talent puts you in good company. There are good writers who aren't published and there are not so good writers who are published. Don't be afraid of failure but treat it as a learning experience. If you're going to dream, dream big. Your goals in writing are within your grasp. It may take time, but nothing is impossible.
Published
September 18th, 2009
|
By
BookRix
The Plight of an Incomplete Hero
 
  They lurk in the darkest crevices of our subconscious without form and without purpose. They were sired by some of our darkest fears, dreams and wishes. Before they were formed their creators spent hours, days, weeks and even years contemplating who and what they'd be. They knew in advance the exact map of their genetic code, their lineage, their culture, their life's mission and how they'd end their life. They were given dreams; goals and ambitions – yet – some of them will never see the light of day or spend one glorious day in print.
  Are you guilty? Have you started to create a character when your enthusiasm was at its highest level and allowed him or her to fizzle out as you lost interest? I'm guilty and a lot of my characters are trapped in an odd place between my mind and the keyboard. If I really think of my unfinished works there are about twenty different characters that I've left in this state. There are some created as lead actors while the others are just "stand-ins" – who are trapped in some most unfortunate predicaments.
  I can recall the creation of an inventor on the verge of starting a revolution. I can vaguely remember a warrior just inches away from his enemy's spear. There's even a guy out there about to tell his leading lady that he loves her for the first time. Some of my characters have been formed internally while they lack hands, feet, eyes and bodies. So, what are we going to do about it?
  I have a suggestion, actually I have two suggestions; either finish what you have started or at least develop your characters and find somewhere nice for them to wait for you to stop by and make them whole. Writer's block can be a challenge and it even kept me away from a project for eight years. Can you imagine… eight years of my character's life unaware of his purpose and lifespan? Eight years of writing and rewriting and even inventing a character on page 10 and finishing a book without mentioning him or her again!
  While we wait for inspiration our creations call out; "Rescue me!" Set them free today because there's a whole world waiting to meet them.
Published
August 18th, 2009
|
By
BookRix
1. Your name
My name is Michael Alan Pennington. My web site can be found here.
2. Title of your work on BookRix:
My book is entitled "Zhena".
3. What is your writing method?
I am currently assigned to a team at the Naval War College in Newport, RI. As part of my job, I travel a great deal all over the world (about a week to ten days a month). As a result, I have a lot of free time in
airports, on planes, and in hotels. This is the time I use for writing most. My brain does not idle well and I had always had a few ideas floating around in my head so about a year ago, I decided to see if I could make them work.
4. How long have you been writing?
I started writing a little over a year ago.
5. How do you maintain your regular job while writing?
As I said, as an officer in the Navy, it was always difficult to find time to write. With my current job, I have more free time while on the road. It's still difficult to juggle my job, my family, and being an author but I'm finding it fun and challenging.
6. Do you have special places where you go to write?
I really don't need anywhere special to write. It seems the more free time I have, the more I'm able to let my mind wander and ask myself, "What if?" That is entirely how my first novel "Zhena" came to pass. "What if there were Soviet sleeper spies in the US who were forgotten about when the Cold War ended?" I use the same thought process within the book as well.
7. Do you have any quirks when writing?
As a submarine officer, I'm trained to multi-task.  Thus I actually sometimes do better when I have a few things on my mind.  I will be working on whatever my current work project is and yet in the back of my mind, I'm still trying to advance my story.  When I have time, then I write down what I've thought about.  I never know how my stories are going to end.  I just take them to a logical conclusion after the "what if" question.  My main goal is to make sure the reader never says "oh come on, that would never happen."
8. What's inspires you?
I get inspired by current events as well as other authors. I like to look at news releases and see how I could apply them to current plot lines.
9. Do you want to make a living from your wordsmith skills or are you doing this for fun?
I would love to be able to write full time, especially after I retire. I realize it's unlikely, but right now I'm just looking for fun as well as a little money on the side.
10. What are your stories about?
My one novel (currently working on the sequel) is about a woman named Susan Anderson. She is married to a submarine officer who is on deployment. She has two children and was raised in an orphanage. One day she received a mysterious phone call which awakens in her numerous latent abilities including martial arts and weapons skills. It also activates a mysterious "voice" which is continuously giving her advice on how to complete the current "mission" though she has no idea what the "mission" is. Her goal is to solve this mystery and keep the truth about it from her family before her husband returns from sea.
11. Do you have a lesson in your stories?
There is no deep morale meaning here. I just want the reader to have fun and not be able to put the book down.
12. What advice do you have for other authors?
For other authors, write about what you know. I know many people say this but it's true. Every major event and place in my book is somewhere I have either visited or am familiar with. It made the writing flow so much easier and the story truly plausible.
I am currently working on the sequel to Zhena and it will be entitled Dohch. I hope anyone who reads it enjoys it and I keep them guessing till the end.
Published
July 28th, 2009
|
By
BookRix
1) Your name: Lisa McEntyre
2) Titles of the work you have on BookRix
"The Bridge at Bayou Pierre" is in the summer contest.  I also have "Chicken and Rice" published on Bookrix.
*EDITOR'S NOTE: Both books have since been removed from BookRix. But you can read other books published by Lisa on her BookRix profile.
What inspired these two stories?
I don't want to give anything away with the first one, since there is a twist at the end.  The second one was inspired by a story from either my grandmother or one of her sisters.  I can't remember who told the story, but she was trapped in the hen house by a snake.  I just took that in a little different direction.
3) What is your writing method? Do you wake up super early in the morning? Do you burn the midnight oil drinking coffee to stay awake while penning your passion?

I'm a morning person, but I feel like I have to get everything else off my plate before I can sit down to write.  So sometimes, I write in the afternoon!  I tend to stick with something until it's finished.  When I'm writing short stories, generally I write them in one sitting then go back and edit.  I'm not good at dragging the creative process out over several days.
4) How long have you been writing?
I remember writing little stories in elementary school.  By the time I was in high school, I was cranking out poetry and at work on a novel.  Thank goodness that novel never saw the light of day.  Some of the poetry wasn't that bad.  I've kept some of it.
5) How do you maintain your regular job while writing?
My job was a victim of the economy, so writing has taken the front seat while I'm looking.  I also have a custom arts and crafts business that takes me away from writing sometimes.  As long as I'm being creative, I don't mind switching to painting or sculpting.6) Do you have special places where you go to write?
I like to write longhand outside if it isn't too hot.  I live in south Texas, so I don't get outside on our 100 degree afternoons.  When the weather's nice I love to sit in the shade with a pad and pen.
7) Do you have any quirks when writing? Do you need to shut off your phone for the weekend or stay away from family and friends?
I need to have quiet.  I like to be home alone.  There are too many distractions when people are moving around the house.  My son will inevitably interrupt me to tell me his latest Halo score or ask where the ketchup is.  If I really need to get something done, I'll turn the ringer off on the phone.  Sometimes if I'm running an idea through my head and it isn't ready for paper yet, I'll go for a long walk or a drive and give myself quiet time to think without distractions.
8 ) What inspires you?
My family.  I remember being a kid and going to my grandparents' house for the holidays.  As soon as the meal was over, the stories would begin.  I had a great aunt that would have everyone roaring with laughter.  She was a master storyteller.  Inspiration came not just in the stories themselves, but in the lives of the people.  The way they talked and interacted always fascinated me.  I loved to hover around the table at my uncle Ray's house when there was a hot game of spades going on.  I can still hear my grandfather's low voice come down the hall in the farmhouse at night.  I get completely wrapped up in those memories, and I hope with my writing, I take the readers there too.
9) Do you want to make a living from your wordsmith skills or are you doing this for fun?
Oh,  I'd love to make a living at it.  I've tried.  I've got two completed novels and one day I want to see one of them on the bookstore shelves.  Novel number three has a chapter or two finished.  I'm going to keep at it, and keep learning and growing until I see that dream realized.
10) What are your stories about? Are they fiction or non-fiction?
With very few exceptions, I write fiction.  I'm also the editor for a local club's newsletter, so I do research and write the articles for that.  I've written a couple of things for the local paper, but my interest is in fiction.  I'd say my voice  is distinctly southern.  I often write humor, sometimes horror, poetry and literary pieces, but they all have the same style.  I want to take my readers to that lazy, comfortable place where they can meet some great people.  My characters are very important to me.  There's usually some spunky old woman getting her way, or a young girl facing obstacles, and sometimes there's a wise person passing on what they know to someone else.
11) Do you have a lesson in your stories? Do you have a philosophical or moral mission you are showing in your work?
In my novels I think there's a moral lesson.  There's time to do that with a novel.  Your reader has invested a lot of time in your characters and I think expects more.  I consider short stories entertainment.  I try to give a little vignette, a chuckle, or maybe even a shudder.  I think the longer the piece, the more you owe your reader in terms of substance
In my novels I think there's a moral lesson.  There's time to do that with a novel.  Your reader has invested a lot of time in your characters and I think expects more.  I consider short stories entertainment.  I try to give a little vignette, a chuckle, or maybe even a shudder.  I think the longer the piece, the more you owe your reader in terms of substance
12) What advice do you have for other authors?
This is trite, but write what you know.  If the newest craze is teenage vampires, don't write another one unless you've got a truly unique twist.  Don't do what's hot right now.  When you're done, it won't be hot anymore.  And keep writing.  Get people to read what you write.  Get in a good critique group.  Mom, Dad, and Grandma are great, but unless one of them is an author, their opinion of your work will only take you so far.  Read books on writing.  Take a class.  You can never learn enough about the craft.  When you're done with something, send it out.  What editors or publishers say about your work is a good gauge of how you're doing.
13) Please write anything else you'd like for the BookRix blog.

I've been in a lot of critique groups and I see writers who come in with the attitude, "This is my baby.  It's perfect.  To criticize my work is to wound me deeply."  That's such a shame.  As a writer, we produce a work.  It's like giving birth to a child.  You want it to be the best work it can be, and in the end you want it to shine.  In order for it to shine, it has to go through all the hard knocks and criticism out there.  In order to grow as a writer, open yourself up to what others have to say about your work.  Hone it and rework it until it's perfect.  Then you're done.  There's no such thing as a perfect first draft.