Published
June 27th, 2011
|
By
BookRix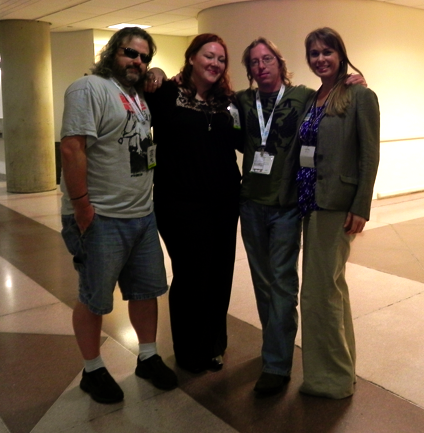 As many of you may have seen on our BookRix YouTube Channel, while at the 2011 BookExpo America, I had the opportunity (and lucky chance encounter!) to meet in person and grab an exclusive interview with two of the most successful self-published authors of our time: J.A. Konrath and Blake Crouch. Currently, they are grossing between $30,000 and $50,000 a month in eBook sales!
Watch this video (turn up your speakers) if you are serious about self-publishing your novel or book. They offer helpful tips and important messages to not only Author R. Lynn, who's just started her journey down the same indie path with BookRix as a sponsorship partner (and was the perfect person to ask these guys some serious questions), but for all of the BookRix community and writers in the world wanting to expand their book's potential horizons.
In this video Blake Crouch and J.A. Konrath discuss what it's been like since they left their legacy publishers and how that's changed their options.
They also talk about the importance of marketing and finding key influencers to write book reviews for their books (pre-launch), building a fan base and platform to sell books online and so much more.
Be prepared, the REAL, authentic and humorous personalities that Author R. Lynn and I got to see emerge during the interview are included, but with all seriousness about why they left their legacy publishers and the power of social media sites for authors including Facebook, Twitter and of course your very-own BookRix.
Follow the authors on Twitter:

@JAKonrath
@BlakeCrouch1
@AuthorRLynn
Posted in

BookRix, BookRix Community, Featured Authors, Great Authors, Industry News, Tips For Writers
|
Tagged

Amber Sims Hinterplattner, Author R. Lynn, BEA, Blake Crouch, Book Marketing, BookExpo America, eBook sales, eBooks, J.A. Konrath, JA Konrath, Legacy Publishers, print-on-demand, Self-Published Authors, Self-publishing, social media marketing, Successful eBook Authors, YouTube
|
2 Comments
Published
June 3rd, 2011
|
By
BookRix
As some of you may have heard, BookRix has chosen to sponsor famed community member and writer R. Lynn with her very popular book, Descendants, which she's authored over the last year and graciously shared with our online community members during the entire writing process. Recently, she attended the BookExpo America with BookRix as we announced the launch of our author services to the publishing world at BEA, with Author R. Lynn as our ambassador and first-ever sponsored author for BookRix.com.
While we enjoyed a couple of fantastic days at BEA with R. Lynn, I was able to get a few quieter moments for our community to interview her.
As a self-published author, she's kept her options open and held onto 100% of her rights. In this interview, she shares with me what she loves about BookRix and details about her journey and why she writes.
This year Author R. Lynn turned down a traditional publishing offer to accept an opportunity to become our BookRix sponsored author as we launch eBook distribution and print on demand later this year. She reviewed both options and chose BookRix, as she truly understands her fans and how they want to be reached: online with social media! Using our platform, she has consistently connected directly as an author with readers and pushed forward to gain a growing fan base.
With access to the same distribution channels and eBook outlets as traditional publishers offer and an upper hand over her own marketing already (you've probably seen her around on the site), she decided she'd rather self-publish through BookRix to retain the rights of her book, Descendants, and earn a much better margin on each book sold.
She was excited about the BookRix offer to support her with professional editing and marketing services in addition to the eBook and printed book distribution in exchange for promoting the new author services also launching this year, acting as the perfect poster child for a changing industry.
R. Lynn's not the only one excited about the launch of her novel. Author R. Lynn, also known as Rebecca, was joined at the BookExpo America in New York with her supportive mother, Bonnie, and grandmother, Sylvia, in tow to promote Descendants. In this next interview I also captured at BEA, the three generations share with me family insights and the adventures of what the last year has been like.
Interested in an Advanced Reader Copy of Descendants? Email me at amber@bookrix.com or stay tuned to our BookRix Facebook fan page or @BookRixUS Twitter account where we'll be giving away a few special copies this summer! Want to connect directly with Author R. Lynn? Check out her author website here!
Published
May 23rd, 2011
|
By
BookRix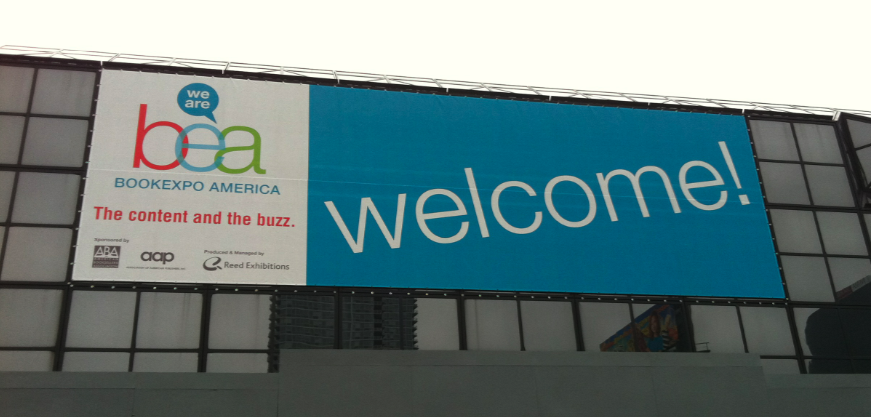 Your BookRix USA team has traveled to NYC for the internationally renowned BookExpo America (BEA) at the Jacob K. Javits Convention Center in New York City, officially taking place May 23-26. If you've never attended before, you may be wondering what all the fuss is about. That's why we have compiled the Top 10 Reasons you should make a point of attending this event, whether this week or in the future:
1. Meet publishers, editors, agents and other industry professionals at the Exhibition Halls with over 1,300 companies represented.
2. Participate in many free educational sessions to hear industry leaders discuss the latest trends, developments and technologies affecting the book industry.
3. Be inspired by new and best-selling authors, while getting a sneak preview of the Fall Lists.
4. Collect autographs from more than 500 of your favorite authors!
5. Rub elbows with celebrities like Jane Fonda, Charles Frazier, John Lithgow, Jane Lynch and Michael Moore.
6. Get the latest updates on digital content and technologies.
7. If you're a blogger, there are two concurrent events at BEA: BlogWorld and New Media Expo NY May 24-26 and a special one-day Book Blogger Convention on May 27.
8. Shopping!!! BEA has North America's largest selection of children's books, a remainders pavilion where you can locate both recent and hard-to-find books and music, and even a gift shop for non-book items.
9. Explore and enjoy the Big Apple!!!
And last but certainly not least:
10. Meet the BookRix USA Team! Gunnar Siewert, the CEO himself, Tim, Ayelet, Stefany, Amber and Andy! Plus, our newly appointed BookRix sponsored author, R. Lynn, will be making her debut appearance on Wednesday with her book, Descendants, edited, printed and promoted by BookRix!!!
We're pulling out all the stops and unveiling our new author services at BEA which you can read more about in our recent press release or on our special BEA website pages. We'll be hanging out at our exhibitor space in the International Digital Publishing Forum's (IDPF) Digital Zone at booth #2110.
If you can't make it to BEA in person you can listen to the recent podcast about our attendance online and connect with us through our social media to stay in touch and meet the team. Feel free to ask questions, share your thoughts, mention what you're reading or writing, or just say hi!
Be sure to stay tuned in via the blog, our BookRix Facebook fan page and our @BookRixUS Twitter account as we'll be bringing you on-site coverage highlighting the best of BEA 2011—the largest book publishing trade convention in North America!