Published
April 8th, 2013
|
By
BookRix


Follow The Crystal Palace Chronicles Part One: Heroes and Hearts as it goes on tour.
Each stop will share one or more of the following: A review, an interview, a giveaway, a guest post or a PROMO.
The Virtual Book Tour is on NOW!
April 8 – May 3
The Crystal Palace Chronicles Part Two: The Descendants of Quendaris is set to release on May 3rd, so now is your chance to get caught up on the story!
Over
$300

in giveaway prizes!

Heroes and Hearts a Romance/Fantasy Adventure by Noemi Betancourt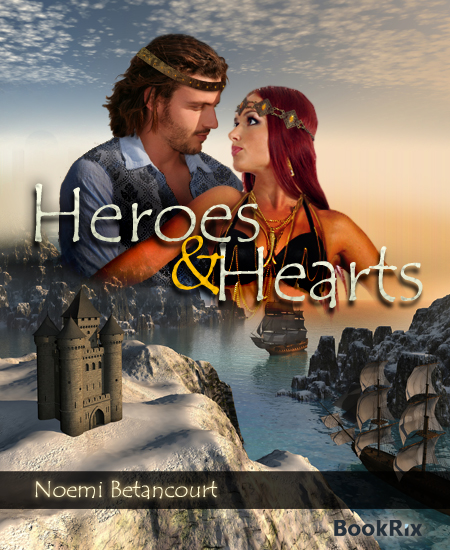 Isabel Kendra is no stranger to a life of struggle. When her father disappeared years ago she and her mother had to fend for themselves. Even now as a chef experiencing burn out on the job, she does what is necessary to pay her bills while dodging her mother's attempts to find her a man. She is more than capable of taking care of herself and neither wants or needs some man to do it for her.
When Isabel comes home one day to find her house turned upside down she discovers her life is about to follow suit in this tale of swords and sorcery, love and prejudice. Prince Alaric is dashing, handsome and brave, everything a prince should be. He is also no stranger to the female form, yet when he meets the bold and vivacious Isabel, rather than be put off by her lack of docility he finds himself drawn to her allure in a way that he simply cannot understand.
Together the two must thwart the evil forces that threaten their lives and their worlds, while struggling against their own blistering attraction for each other. Can Isabel balance her aversion to the prince's habit of coming to her rescue with the realization that sometimes it is all right to accept help from a man? And can Alaric handle himself around a damsel who gets herself out of her own distress and learn to be simply the man who loves her?
April 8 – Reading Addiction Blog Tours – Meet and Greet
April 9 – Bunny's Reviews – Guest Post/Giveaway/PROMO
$10 Amazon Gift Card + eBook – Leave a comment to participate.
April 10 – The Book Faery Reviews – Guest Post/Giveaway/PROMO
$10 Amazon Gift Card + eBook – Available until the end of April.
April 11 – Book Marks the Spot – Giveaway/PROMO
$10 Amazon Gift Card + eBook – Leave a comment to participate.
April 12 – My Pathway to Books – Review
April 13 – Must Read Faster – Guest Post/PROMO
April 14 – Noemi Bentancourt's Author Blog – Guest Post – An Exclusive Interview
April 15 – BookRix – Review/Giveaway
$100 Amazon Gift Card + Heroes and Hearts swag + BookRix Sampler Pack – ON NOW!
April 16 – My Reading Addiction – Review
April 17 – The Between – Review
April 18 – Laurie's Thoughts and Reviews – PROMO
April 19 – Author Ever Leigh – Review
April 20 – Texas Book Nook – Review
April 22 – Feed My Need, For a Good Read – PROMO
April 23 – The Avid Reader – PROMO/Giveaway
$10 Amazon Gift Card + eBook at the author's website: Noemi Betancourt
April 25 – My Cozie Corner – Review
April 26 – Words I Write Crazy – Review/Giveaway
$25 Amazon Gift Card + eBook
April 27 – Magnolia Blossom Review – Review/Interview/Giveaway
$25 Amazon Gift Card + eBook
April 28 – Inside BJ's Head – Review/Giveaway
$25 Amazon Gift Card + eBook
April 29 – The Serial Reader – Review/Interview
April 30 – pending
May 1 – Book Maven – Review
May 2 – Faerie Tale Books – Review/Giveaway/Guest Post
$25 Amazon Gift Card + eBook
May 3 – RABT Reviews – Review
May 6 – Announce the BookRix big giveaway winner!
If you're interested in participating in a BookRix blog tour or just want to learn more, please leave your name and email, along with a brief message, in the comment area below.

Special thanks to Reading Addiction Blog Tours for all their help.











BookRix is hosting its first book blog tour, thanks to the help of Reading Addiction Blog Tours and BookRix author, Jess Wygle. If you don't already know about book blog tours, I'm here to get you in the know. Basically, it's just like a real book tour, but instead of sending the author and the book to a series of cities in the span of a month, we are sending Jess Wygle and her book, Evol, to 20+ book blogs between today, February 22nd and March 24th. Each stop on the tour will feature one or more of the following:
1. A book review – to get readers interested in the book, and to give everyone a better understanding of what happens in the story.
2. An author interview – to learn more about Jess and her writing.
3. A guest post - with something fun written by Jess on an assortment of topics.
4. A PROMO – to, well, promote.
There will also be giveaways (at almost every single stop!) offering prizes like $10-$25 Amazon gift cards, free eBooks, t-shirts and the final big giveaway from the BookRix blog will be a $100 Amazon gift card and an assortment of eBooks. Basically, you're going to want to follow Jess around on her tour and you're going to want to buy her book.
This is the best way to show your support for indie authors (like yourselves) who are trying to promote their self-published books (like yours) and live the dream (which is the same as yours)… I think you know where I'm going with this. Tell your friends and help us make our first blog tour a successful one. Who knows, you might be the next one chosen to go on tour?
Visit the tour schedule by clicking HERE. The BookRix stop is on Monday, February 25th. You'll also find that some of your fellow community members are hosting at their blogs.