Crystal Palace Chronicles


Thank you all so much for participating in our second blog tour featuring Heroes and Hearts Crystal Palace Chronicles: Book One by BookRix author Noemi Betancourt. We're pleased to announce the winner for this Blog Tour Giveaway:
Congratulations, Bailey Ember! We'll be reaching out to you soon.
Noemi's second book in the Crystal Palace Chronicles, Descendents of Quendaris, was released over the weekend and we're thrilled! Naomi really knows how to write an enticing book blurb (writers, take note!) and we're pleased to share it with you here:
Blurb: In a world ravaged by war, an ancient prophecy declares the union of two nations will unleash the power of the gods. Caught in a whirlwind of warring factions, mirror mages and flying ships, two people from alternate realms hold the fate of millions in their hands…
She was no one's pawn!
Groomed to be the perfect Southern belle, debutante and trophy wife, Nancy Harrington now refuses to marry her intended, prophecy or no! Still, would being bound for all eternity to a gorgeous man so devoted to his people be such a sacrifice?
He has a duty to his kingdom and his people!
A kind ruler, loyal to the needs of his people, King Iskander always has the good of his kingdom in mind, even if it that means taking a wife he doesn't love in order to fulfill a prophecy. So when his future bride, an unsuitable hot-blooded shrew, refuses to marry him why is he not relieved?
Deep within the dark depths of the earth an ancient enemy awakens from his slumber…
Determined as ever to conquer the world, the Goblin King wakes to discover his chance to win the war, and only an ancient and powerful magic can defeat him. Do Nancy and Iskander have what it takes to lead the Crystal Palace Alliance to victory, reveal a traitor, and bring peace to Otherealm once and for all?
Sounds like a great read, doesn't it? We're looking forward to it ourselves.
Starting on May 13th, we'll have another Blog Tour to get excited about! BookRix will be featuring The Long Way by author Aaron Redfern. Part two of the series, The Forgotten Way, is already available in the eBook stores so you won't have to wait to read more! Each stop will share one or more of the following: A review, an interview, a giveaway, a guest post or a PROMO. Stay tuned into our blog for more details on this event. For now, check out Aaron's blurb for The Long Way, and get excited for his upcoming tour!
Blurb: In a move that defies all logic and likelihood, a young boy named Spiff is called upon to carry out the most important quest that has ever been undertaken. His mission drags him headlong across the face of the world, through a veritable pantheon of hardships and threats that are at once chilling and baffling. Along the way he meets dragons and madmen, and learns that the lovable and the monstrous are two sides of the same coin.
Conceived as a darkly whimsical loose retelling of the Tolkien saga, The Long Way poses the question that high fantasy rarely cares to ask: Why?
Posted in

Book Blog Tours, BookRix News, Featured Authors, Giveaways
|
Tagged

Aaron Redfern, Author promotion, blog tour, book reviews, BookRix, BookRix book blog tour, Crystal Palace Chronicles, Descendants of Quendaris, Giveaway, Heroes and Hearts, Noemi Betancourt, The Forgotten Way, The Long Way, Winner
|
Leave a comment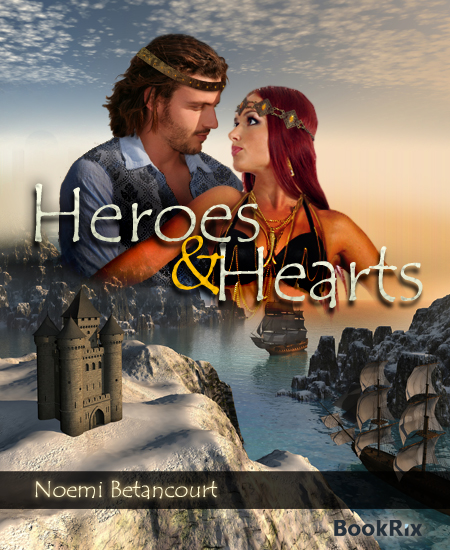 Book for Review:
Heroes & Hearts
The Crystal Palace Chronicles Book One
by Noemi Betancourt
Genre: Fantasy Romance Adventure
Blurb: Isabel Kendra is no stranger to a life of struggle. When her father disappeared years ago she and her mother had to fend for themselves. Even now as a chef experiencing burn out on the job, she does what is necessary to pay her bills while dodging her mother's attempts to find her a man. She is more than capable of taking care of herself and neither wants or needs some man to do it for her.
When Isabel comes home one day to find her house turned upside down she discovers her life is about to follow suit in this tale of swords and sorcery, love and prejudice. Prince Alaric is dashing, handsome and brave, everything a prince should be. He is also no stranger to the female form, yet when he meets the bold and vivacious Isabel, rather than be put off by her lack of docility he finds himself drawn to her allure in a way that he simply cannot understand.
Together the two must thwart the evil forces that threaten their lives and their worlds, while struggling against their own blistering attraction for each other. Can Isabel balance her aversion to the prince's habit of coming to her rescue with the realization that sometimes it is all right to accept help from a man? And can Alaric handle himself around a damsel who gets herself out of her own distress and learn to be simply the man who loves her?
My Review: It had been a long time since I'd read a good Romance novel. I went through a phase in high school where I would stay up really late reading Romance novels, only to be too tired to wake up for my first class the next morning. The great thing about being involved with indie blog tours is that I'm exposed to so many different genres and so many talented new writers.
Initially, the cover of Heroes & Hearts is what drew me in. It reminds me of two things: (1) A Romance novel (duh…) and (2) A video game. Well, I thought to myself, I like both of those things, so I better get reading!
Heroes & Hearts is about Isabel, a strong female character (hooray for female role models!) who grew up with her single mother always pestering her to settle down with some man or another. Isabel is having none of it, and tells her mother that she's happy with how things are. She doesn't need a man to be happy. At this point, of course, all the readers are thinking (or hoping if you're more sentimental) that she just hasn't met the right one yet. And, you're right!
Suddenly, Isabel is sent to another dimension where she finds out that she is heir to a country called Kendra. Her father is the Duke of Kendra, who left them when she was just a young girl, and turns out to be a coward who also turned his back on his people – allowing them to be captured by an evil Sorceress and her minions. Now the story starts to get interesting!
The reader is introduced to Prince Alaric, devastatingly handsome, brave, and of course a knight in shining armor. Isabel is immediately attracted to him, but keeps him at arms reach because of his bachelor ways and her inability to accept the help of a man. This is something that always gets me in Romance novels – the women are strong, but never strong enough to resist the overpowering instinct to fall in love.
Well, now I'm off track. Isabel and Alaric are sent to find the illusive "Silver Fleet" – a convoy of flying ships powered by magic that hold the strength of an army. They need the fleet to fight against the army of dead being led by the Lord of the Underworld. And Isabel needs to rescue her little brother from the wicked Sorceress.  I love how in depth the fantasy realm becomes. There are manticores, dragons, warriors, oracles and Eagle Lords, and Isabel is put to the test against each one. There is sorcery and sword fights, magic and mayhem, and of course, love. The love scenes are filled with electricity and passion, enough that you'll probably want to read them again.
Okay, I'm not going to say any more, so that you can enjoy it for yourself. I got a sneak peak at the second part of the series Descendants of Quendaris: The Crystal Palace Chronicles Book Two and it's even better than Heroes & Hearts – There's more action, more passion and the fantasy realm becomes so much more in depth. If you want to find out more, visit Noemi Betancourt's BookRix Profile Page, or stop in at her personal BLOG.  Be sure to follow the blog tour for more great reviews, interviews, guest posts and giveaways. Click HERE to see the schedule.
*FYI – There's a rumor flying around that the author has already started writing Book Three of the series…
AND now for the moment you've all been waiting for – THE GIVEAWAY!
At the end of the tour, BookRix will be giving away a $100 Amazon gift card, a BookRix Sampler Pack (several great eBooks published by BookRix members), a copy of the newly released Descendants of Quendaris, and also some great swag (as pictured below). All the prizes go to ONE winner – You know you want it, so sign-up for the giveaway for your chance to win!
BookRix will also be doing a cover reveal for Descendants of Quendaris when we announce the Giveaway winner!