Published
July 25th, 2013
|
By
BookRix

GUEST POST
Today we are featuring an article by Amber, owner and co-creator of Me, My Shelf and I blog, MMSAI Designs, and Book Nerd Tours.  Amber has a lot of great insights about the art of marketing and selling eBooks, and the eBook self-publishing world in general, so we've asked her here to shake some sense into you. She wants to share some wisdom, gained through years of experience with Independent Authors, hopeful that it will rub off on at least a few of you.


WHY YOUR COVER MATTERS
I'm going to tell you something that might come as a shock to you, and maybe sound even a little harsh. But it's the truth and frankly someone needs to say it. No matter how well your book is written or how intriguing your synopsis is, no one is going to even think about buying your book if you have a poorly crafted cover.
No one is going to even think about buying your book if you have a poorly crafted cover.
I know, I know, we constantly spout the phrase 'Don't judge a book by its cover' but let's face it, when it comes to using this phrase about actual books, and not as just a vague mantra about life, everyone really does judge a book by its cover. Book Buyers. Book Readers. Book Bloggers. Book Sellers.
Think about it, it's the books first impression. When someone is scrolling through an eBook store, what do they see? Not the synopsis, not an excerpt. They see the cover. Your cover is the difference between someone clicking on your book to see that masterfully crafted synopsis, and them scrolling past and never thinking another thought on it again. First impressions are everything and if you are not using the cover to your advantage, you have no one to blame for poor book sales but yourself.
Independent Authors have a wonderful opportunity that traditionally published authors don't – they have 100% full control over their cover art. Do you know how many traditionally published authors would kill to have even a tiny say in their cover?
Independent authors constantly waste this opportunity by looking at their cover as a way to save money. Instead of spending a few days looking around the millions of able bodied and extremely well priced graphic designers on the internet, they blow the dust off that version of Paint Shop Pro that hasn't been used since Madonna had her last top 40 hit, and put something together themselves.
Independent authors constantly waste this opportunity by looking at their cover as a way to save money.
These very same people who would never consider doing heart surgery because they weren't trained as a doctor. People who wouldn't even entertain the idea of teaching an advanced English class because they do not possess an English degree. These very same people are more than willing to jump into the shoes of a Graphic Designer without batting an eyelash and think they can do that job, maybe not as well, but well enough. In any job, "well enough" is never a good option and it never works.
Not only can this be detrimental to your book sales, but quite possibly to yourself personally. Did you know nearly all photos on the internet are copyright protected in some fashion? If you're just grabbing things willy-nilly you could get sued. And that if you are buying stock images, you could be wasting money. A designer already has accounts with all these stock places, they get the images for far less than you would and generally they come as part of the cost you pay said designer!
I know you believe you book is great, and if people could just read it they would love it. I don't doubt you – but let me share with you something to think about before you dismiss the thought that the marketing that comes along with a book cover isn't as important as I make it seem. Before you fully subscribe to the idea your writing style alone will carry your career remember this: JK Rowling, author of the Harry Potter Series published a book under a pen name recently. Even her fantastic and multi-award winning writing could not sell more than 1500 copies of that book in 6 months. When it was leaked she was in fact the author her sales jumped 500,000% in 48 hours. That day JK helped prove that writing doesn't sell books – marketing does. You're not JK Rowling, yet. Your name alone won't sell your books, and it's not ever going to if people don't want to read them in the first place.
That day JK helped prove that writing doesn't sell books – marketing does. You're not JK Rowling, yet.
- Amber



Check out these links for more author tips about:
Marketing your eBook
eBook Cover Design
Creating an eBook
And make sure to stop by the Art Writers group if you need help with your cover!




It might sound strange at first, but trust us. It's a proactive step for an indie author and you'll thank yourself for it doing down the line. If you're a writer, chances are you're working on a book (or several) as you read this blog. And if that's the case, great! But in the same way you carve out time to write another chapter in your masterpiece, make sure you're also making the time to set yourself up for success when you're ready to publish. It's better to be prepared. Even more so when it comes to eBook publishing and gaining eBook sales.
Know your topic. Know your audience.
Whether you're writing about vampires, science fiction or romance it's a good idea to thoroughly understand your topic and chosen book genre. Think about the stories you love – why do you love them? What makes them unique or different? How can you make your book stand out from the crowd? Once you've thought about that, you need to consider who your audience is. Who is it you're trying to appeal to and where do they go online? Are they involved in social media? Do. Your. Research. This is a very crucial step
What's your persona?
Recently I've been learning a lot about personas. Their role in work environments, in the entertainment industry, even in family dynamics – there are countless personas. And as an author, your persona will become very important. It is essential for you to determine who you and build from it. Don't just be "Katie King who loves to write psychological thrillers" because that boring and won't get you noticed. Instead, dig a little deeper and express yourself like this: "Katie King who loves phychological thrillers, kicks tail at Dungeons & Dragons and has a passion for photography".  Make yourself stand out and get personal. This is also important if you decide to use a pen name. If you're writing under an alias, you can be whoever you want to be. Just make sure YOU know who you are and stick to it.
If you build it, it will come.
Sorry for the Field of Dreams reference, but this phrase hits the nail on the head. One of the major benefits behind marketing your book before it's published is to have an audience of people anticipating its arrival. It's important to think ahead and have a strategy in place. The step before this involved knowing your audience. Once you know who they are, plot out how you're going to draw them in. Videos? Podcasts? A blog? Take the time to really think this out. Be creative and think strategically.
Put your finger on the pulse of social media.
Facebook, Twitter, YouTube, Google+, Pinterest, Instagram, Goodreads, Tumblr – social media channels are endless. I don't recommend juggling all of them, but it's imperative to a.) Understand what each one does, and b.) Identify which channel your target audience uses most. After all, why spend your time on YouTube if the people you're trying to reach predominantly use Twitter? Once you've identified the channels you intend to use, create an "author" profile for each one and personalize it using the persona you've chosen. For additional marketing tips and how to further utilize social media, check out our complete marketing guide here.
Be proud of your eBook self-publishing goals.  You're taking full control of your work and carving out a name for yourself in the publishing world. It's an exciting time! Just remember, if you ever have questions or need advice, our community is full of experienced, self published authors who enjoy offering their assistance wherever they can. Come check it out!
Posted in
BookRix News
|
Tagged

ebook publishing, eBook sales, eBook self publishing, Facebook, Goodreads, google+, indie author, Instagram, Pinterest, romance, Science Fiction, self-published, tumblr, Twitter, vampires
|
Leave a comment


We've always been encouraged to never judge a book by its cover. But there's a reason that phrase is figurative because from a literal standpoint, it's practically impossible. Consumers are drawn to high quality, professional book covers. And sales numbers don't lie: Authors who took the time to create polished and well formatted covers (or hired someone to do it for them) sell more books.
Some people feel professional book covers are a perk of being published through a traditional publishing house. Sure, it might come out looking nice, but did you know that authors publishing through big name publishers have little to no say in their cover design? Not only does the publisher have the right to edit the book as they see fit, but they can also do as they please with the cover. Seems unfair, doesn't it? Remember, you chose eBook self publishing for a reason. When you do this, you have full creative control over your work. That includes everything from the table of contents to the book description to the cover art – the first thing your reader sees. So do your research! If you're savvy with Adobe Illustrator or Photoshop, dive in and get creative. If you don't know anything about either program, all is not lost. Third party companies exist for this very reason – graphic designers are everywhere. But before you go exploring online check out the Art Writers group on BookRix and talk to the members. Many of them volunteer their time and expertise to help increase their skill. The best part is that you – the author – can tell them what you have in mind. If art isn't your thing and you don't have any ideas for a cover, you can discuss the genre, plot or subplot and see what creative ideas they can come up with. The Art Writers group is full of incredibly gifted members who strive to get your work complete so you're ready to publish we're proud to have their work on our site.
If you're looking for examples of stand out covers, here are my three current favorites on BookRix. These images are eye catching, clear and free from visible pixels. Great job, guys!


Remember, if you want to sell ebooks, the cover is what draws the reader in. The book description is what entices them to read your book – and that should always be your primary goal after creating great work: To sell your eBook! For tips on how to write effective book descriptions, check out our blog here with tips from successful author Richard Ridley! With an eBook, self publishing can be easy. But it's important not to cut any corners! With a proper cover and a great book description, your eBook is going to fly off the (virtual) shelves.
Posted in
BookRix News
|
Tagged

Author Tips, eBook formatting, eBook layout, eBook sales, eBook self publishing, Effective Book Descriptions, indie author, indie publishing, Market your book, marketing eBooks, publish eBooks, Self-publishing, sell eBooks, successful eBooks, Writing Tips
|
Leave a comment
Published
June 5th, 2013
|
By
BookRix




Upload and Formatting
With the BookRix self publishing platform, we have made the creation and selling of eBooks effortless. If you've been looking for a simple way to create the best eBook and distribute it to as many online shops as possible, then you've come to the right place.
Our BookRix support team recommends that our authors utilize the document upload option, as it properly prepares your eBook. Most authors maintain a backup copy of their work in a program like Microsoft Word or Open Office. Doing so provides ease of storage as well as a sense of safety. If your manuscript is already formatted within the Word doc, then you can easily upload it as is. The advantages of doing this are:
-              Fewer clicks to get your eBook published
-              Automatic creation of table of contents
-              Ability to edit uploaded document
-              Avoid annoying formatting errors that can arise from "copy & paste" functionality
How do I make my document ideal for uploading?
The chapter title of your document should begin with the heading styles in Word or Open office. When you use the "Heading" feature in the tool bar (NOT to be confused with "Header") to format each chapter title, the chapters will automatically be created in the editor when you upload the file. The chapters will create a table of contents and are clickable, taking you directly to the selected chapters. It's that easy.
What else is taken from formatting?
If your document includes images or photos, these will be included in the eBook and will appear centered below the text or on a new page. The formatting "bold", "italic" and "underline" will also be accepted as well as the text alignment "centered" or "flush right". In addition, paragraphs and line breaks are detected and incorporated as well.
Why is "copy and paste" not the ideal method to create an eBook?
Although this functionality is still available, our support team advises against it. Creating one chapter at a time often causes formatting errors that are annoying and unnecessary. Many of these errors are manually created and time consuming to fix. Do yourself a favor – try the file upload option. You'll be pleased you did.
The book cover is often the first thing a reader notices. But the book description is the author's hook. The goal for every self-published author is to peak the reader's interest so they are enticed to purchase your book. This might sound easy, but time and time again writers will include too much information, not include enough detail, or just fail at making an appealing book blurb.
Fiction author, Richard Ridley, has been writing books for more than 20 years, and is no stranger to marketing his work. Over the years, Richard has mastered the art of writing effective book descriptions, which have lead to stronger book sales. Check out his successful tips below and learn how to effectively write your next book description!
1. Don't include subplots. When it comes to the book description, the only thing that matters is the main plot or main theme. That's all you need to focus on when you sit down to write your book description. Including anything else will send you off into an endless loop of "then this happened" moments that will dilute your book description. What is the primary action that drives your book?

2. Keep it under 150 words. This, no doubt, will elicit some moans and groans by a lot of authors. Summarizing a book that consists of tens of thousands of words to just 150 is impossible, right? No. In fact, I am of the belief that you should be able to summarize your book in a single short sentence. Remember, you don't have to concern yourself with the character development and sub-plots, so those tens of thousands of words it takes to adequately draw a reader into a book aren't necessary when it comes to your book description. In the simplest terms, what is your book about and what will make readers interested?

3. Write in third person, present tense. Even though your book is most likely told in past tense, your book description is not. You are describing this book as if you're sitting face to face with the reader, and they've asked you what the book is about. You wouldn't speak to them in the past tense. In addition, the book description is told from third person point-of-view even if you've written your book from first person point-of-view.

4. Use emotional power words. You are trying to evoke emotions with your book description, the same emotions that your book evokes. To convey these feelings, you need emotional powers words like tormented, charismatic, passion, obsession, terrifying, etc. There are too many to mention here, but a quick search for "Power Words" on the internet will produces hundreds of words to choose from. Just be careful not to overdo it. Use power words sparingly and strategically. If I had to put a number it, I'd say in a 125 word description, you'd use 6-10 emotional power words.

5. You are not the author. You are not writing your book description as the author. You are writing it as the publisher. Making an impact on the reader is your principal concern. What will move the reader to want to know more about your book? What will motivate the reader to add your book to his or her cart? Write the book description with your head, not your heart. Remember, the book description is marketing material – not literature.
Another thing Richard suggests, and we at BookRix have suggested this as well, is to find your favorite author and books and read through all of their book descriptions. Chances are, they're getting it right. If you write in a genre outside of what you typically read, then search for those specifically. Read as many as you can, take notes, and identify the formats used.
Richard provided an example of a good book description that he feels was written correctly. The following excerpt is from The Outlander, a Gil Adamson novel:
In 1903 Mary Boulton flees alone across the West, one heart-pounding step ahead of the law. At nineteen, she has just become a widow-and her husband's killer. As bloodhounds track her frantic race toward the mountains, she is tormented by mad visions and by the knowledge that her two ruthless brothers-in-law are in pursuit, determined to avenge their younger brother's death. Responding to little more than the primitive instinct for survival at any cost, she retreats ever deeper into the wilderness-and into the wilds of her own mind.
According to Richard:
From the description, I know the book is a psychological thriller featuring a young woman on the run from some very nasty people. I get a hint that her husband may have deserved his fate, but I'm also led to believe that Mary Boulton may be mentally unstable. The description is roughly 90 words. It's told in third-person, present tense, and I count seven emotional power words ("heart-pounding," "frantic," "tormented," "mad," "ruthless," "primitive," and "wilds"). I only know the main plot: she killed her husband, and now she's a fugitive running for her life. I picked up the book because of its cover, but I opened the book because of this description. I now own it.
Keep in mind that your book description extends far beyond a side panel in online eBook stores. This description will be used for social media efforts, and for promotional material for your self-publishing efforts.  It's something for your fans to latch onto. Keep it punchy, clean and concise.
Happy writing, everyone! Best of luck with your book descriptions!
Published
June 27th, 2011
|
By
BookRix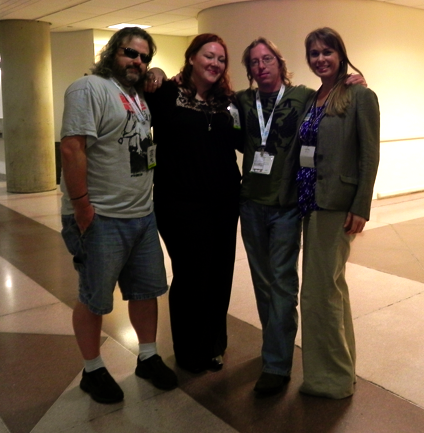 As many of you may have seen on our BookRix YouTube Channel, while at the 2011 BookExpo America, I had the opportunity (and lucky chance encounter!) to meet in person and grab an exclusive interview with two of the most successful self-published authors of our time: J.A. Konrath and Blake Crouch. Currently, they are grossing between $30,000 and $50,000 a month in eBook sales!
Watch this video (turn up your speakers) if you are serious about self-publishing your novel or book. They offer helpful tips and important messages to not only Author R. Lynn, who's just started her journey down the same indie path with BookRix as a sponsorship partner (and was the perfect person to ask these guys some serious questions), but for all of the BookRix community and writers in the world wanting to expand their book's potential horizons.
In this video Blake Crouch and J.A. Konrath discuss what it's been like since they left their legacy publishers and how that's changed their options.
They also talk about the importance of marketing and finding key influencers to write book reviews for their books (pre-launch), building a fan base and platform to sell books online and so much more.
Be prepared, the REAL, authentic and humorous personalities that Author R. Lynn and I got to see emerge during the interview are included, but with all seriousness about why they left their legacy publishers and the power of social media sites for authors including Facebook, Twitter and of course your very-own BookRix.
Follow the authors on Twitter:

@JAKonrath
@BlakeCrouch1
@AuthorRLynn
Posted in

BookRix, BookRix Community, Featured Authors, Great Authors, Industry News, Tips For Writers
|
Tagged

Amber Sims Hinterplattner, Author R. Lynn, BEA, Blake Crouch, Book Marketing, BookExpo America, eBook sales, eBooks, J.A. Konrath, JA Konrath, Legacy Publishers, print-on-demand, Self-Published Authors, Self-publishing, social media marketing, Successful eBook Authors, YouTube
|
2 Comments