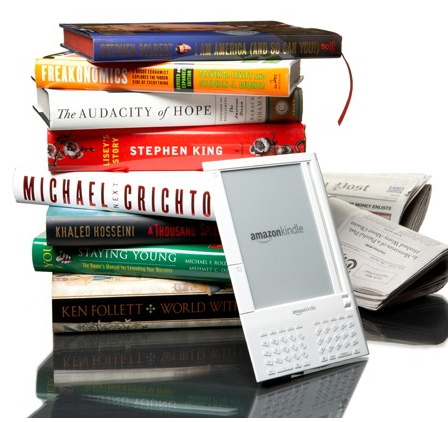 Recently I heard about Amazon's beta launch of @author and it got me thinking. Sadly my initial reaction was more Negative Nancy than Positive Polly. I couldn't help but think how obnoxious this new feature could be, and I found myself thankful not to be a published author. If you're unfamiliar with @author, allow me to break it down for you.
First things first, you'll need to own a Kindle as well as a Twitter account (which must be synced together). Got 'em both? Let the author nagging commence! Say you're reading a self help book on your Kindle and one of the self improvement exercises seems a little vague or unclear. Hell, maybe you even disagree with it. With the @author feature, you can highlight the specified text and send it directly to the author along with your question and/or comment. Sure, you're limited to 100 characters, and who knows if you'll actually get a response. But at least you're no longer tweeting to an author who has to filter through pages of @mentions and spam, right? Well, let's hope some spam filters are in place.
In my worst-case-scenario brain, I envision this as just another avenue for folks to troll and flame their favorite (or least favorite) literary wordsmith. Throw in the occasional nagging question "what did you mean by (insert euphemism here)?" or comments "What the hell were you thinking when you…." and this shiny new feature sounds like the Pandora's Box of social media for authors. Ugh.
Let's hope these beta tests go off without a hitch and the authors involved don't go running for the hills. #BestOfLuck guys. I think you'll need it.
Posted in
BookRix
|
Tagged

@mentions, Amazon, author, beta, euphemism, flame, hightlight the specific text, Kindle, Negative Nancy, Pandora's Box, Positive Polly, published author, self improvement, spam, troll, Twitter, worst-case-scenario
|
Leave a comment