Earlier this month my boss, Tim, informed me of his plans to visit the folks at Readmill in mid December. Being in the eBook/Self Publishing industry, I knew who they were, but now I had a special interest and wanted to know more. So I did what anyone in my shoes would've done. I went online and snooped! After plugging in their site address, my eyes were pleasantly met with a clean, sleek design layout. Well played, Readmill. Their tagline "Books have a big future" struck a chord with me since BookRix embraces the same mentality.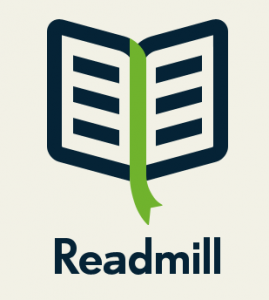 Don't let my comments surrounding their site aesthetics fool you. The team at Readmill offer much more than an polished website. This past year, they've built a solid e-reader platform that allows their users to connect with one another regardless of the e-reader device they're utilizing (Kindle, iPad, Nook, Smartphone, etc). Brilliant, right? According to them, their goal is to "integrate books with the web making them linkable, embeddable, shareable and hackable." Who wouldn't want this level of freedom?
Sadly, my Kindle was laid to rest this past November after a nasty fall down my apartment stairs. Until Santa brings me my new iPad for Christmas, I'm stuck bugging everyone with an e-reader to test various apps and programs for me. When I asked Tim about Readmill for iPad, he sang its praises and was quick to recant how "easy and comfortable" the app was to use. That's what I like to hear!
With the Readmill Reader for iPad, you can read books, track your progress and share your highlights. On Readmill.com you can follow people you like, explore books, and see what your friends are reading. It's also a great companion for the books you discover with us on BookRix. Rather than listen to me talk about it, why not take a look and see for yourself? Check it out: http://readmill.com/invite/bookrix
Comment your thoughts below. I'd love to hear what you have to say!