Published
May 12th, 2011
|
By
BookRix
So, have you seen the popular film adaptation of author Sara Gruen's bestselling-novel Water For Elephants yet? If so, you're far from alone! Box Office Mojo, says that the Fox-distributed movie starring Reese Witherspoon, Christoph Waltz and Robert Pattinson has taken in over $40 million worldwide so far.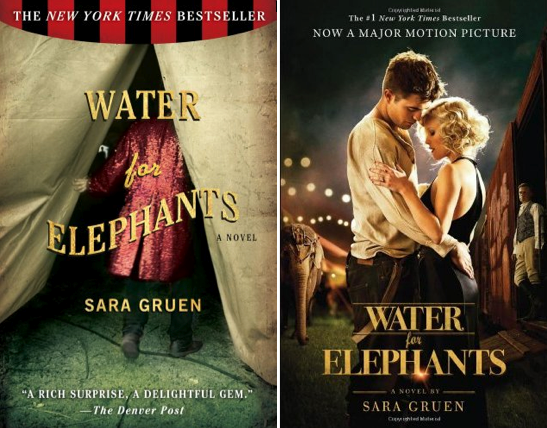 The story of an orphaned Depression-era veterinary school dropout recruited into a traveling circus, where he falls in love with a dazzling equestrian performer, has captivated readers, movie audiences and critics alike. With 4.3 million American copies of the novel currently in print, translations into 44 languages and multiple awards, this success story is a ray of hope to every aspiring writer in the BookRix community.
According to an entry in Wikipedia, Water For Elephants first made the New York Times Best Seller list for 12 weeks after its hardcover release in May 2006 by Algonquin Books, followed by a #1 ranking of the paperback version a year later. In a resurgence boosted by the film's debut on April 22, Gruen's third novel is currently holding FIVE #1 spots on the NYT Best Seller List, including E-Book Fiction, Combined Print & E-book Fiction and Paperback Trade Fiction, where it has held court for 118 weeks and counting.
Here at BookRix, we find one of the more delightful aspects of Sara's success to be the fact that she first drafted this best-seller as a participant in National Novel Writing Month, better known as NaNoWriMo, held in November each year since 1999. Her second novel, Flying Changes (HarperCollins 2005) and her latest work, Ape House (Spiegel & Grau 2010), which has already been optioned by Ellen DeGeneres' production company, were also penned during NaNoWriMo. In her Pep Talk for fellow participants, Sara shares humorously about overcoming the distractions to writing that life tends to bring. And in this excellent About.com interview, she 'fesses up to locking herself in a walk-in closet to complete Water for Elephants.
Sara also had some very valuable parting advice from an interview with Luan Gaines at Curled Up with a Good Book that we think everyone should take to heart:
"Instead of thinking about writing, just write. You can edit darned near anything into shape, but you can't edit a blank page."
Love talking about books made into movies? Come say hello in our Books Made Into Movies group on BookRix, where we chat about examples like this one. Love writing fictional stories or have a memoir that you'd like to put down into words? Join the BookRix community and free the author in you! You never know if your story could someday wind up on the big screen!