Published
March 11th, 2011
|
By
BookRix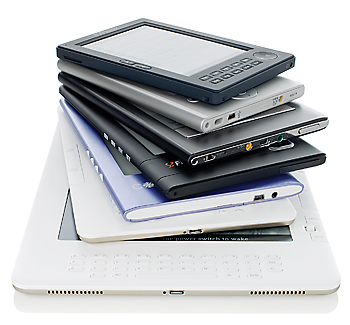 According to the Association of American Publishers, domestic sales of e-books jumped from $166.9 million (3.2% of combined trade sales) in 2009 to $441 million (8.3% of combined trade sales) in 2010. That's an increase of 164.4% in just one year, and 623% since 2008, when sales were $61.3 million (only 1% of trade sales).
Meanwhile, printed book sales have been steadily decreasing. Kindle content revenues on Amazon.com have overtaken hardcover sales (since July 2010) and paperback sales (as of January 2011). Amazon reports selling 115 Kindle e-books for every 100 paperback books sold since the beginning of the year and up to 180 e-books for every 100 hardcover books.
We believe the e-book market stands to grow dramatically as more and more consumers acquire e-reader devices. A new report from the Pew Internet and American Life project claims that 5% of American adults currently own e-reader devices such as the Kindle, Nook or Sony Reader. These devices appear to be most popular among baby boomers, with 7% between the ages of 47 and 56 and 6% aged 66 to 74 owning them. However, since many people read e-books on their smartphones, tablets and computers, these figures vastly underestimate the total number of people who read e-books.
Speaking of which, here's a quick tip: Did you know that much of the downloadable free e-book content available here at BookRix in the ePub format can be uploaded to and read on your iPhone, iPad or iPod Touch using the Stanza e-reading app?
With nearly 15,000 book and short story titles available for free on BookRix, you're sure to find something you enjoy reading on your smart phone, e-reader or personal computer! And don't forget to check out the new SocialBook© by BookRix writing feature authors are using to create collaborative digital e-books, with most available for download and written together online by multiple authors!
Published
March 1st, 2011
|
By
BookRix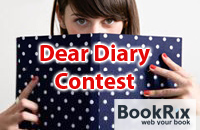 The BookRix Dear Diary free writing challenge begins today! The challenge? Write 30 entries in 30 days!
This March diary journalers will get 30 days to create 30 diary entries, with a chance to win an iPad with a cool hardback leather case!
Write your 30 diary entries either in a BookRix online e-book or via the SocialBook© social media application feature, new from BookRix! Journal keeping and daily microblogging has never been this easy – collect posts from your Facebook status updates or your Twitter tweets with a SocialBook© easily and effortlessly with this automatic software! The idea for Dear Diary contest participants is to create a story via real or fictional diary entries spanning across 30 entries within 30 days.
Writing starts March 1 and ends March 30. At that point, your 30 entries should be complete in an online book on BookRix and submitted. Voting begins on March 31 and is open to voting by the BookRix community until April 14. The top ten contestants as chosen by the BookRix community will advance on to the independent jury, where final selections are made.
The prize for the top diary book of entries is an iPad with a cool bookbook case from TwelveSouth! That's nearly a $600 value!!!

Readers can also win great prizes for reading, commenting and voting on Dear Diary contest books! Plus, if you participate in the Dear Diary contest by voting for your favorite, you will be automatically entered into a raffle for a chance to win a $20 Amazon gift card! We're giving away 10 Amazon gift cards so there's a high likelihood you could win. Good luck!
Guidelines for Contest:*
- Contestants will have 30 days to write, create their books and post them on the site. Books should be uploaded by March 30. Voting starts March 31st and goes until April 14, 2011, 11 pm GMT.
- The book must contain 30 diary entries, which tell a story. Entries do not have to be created on 30 different days, but there must be 30 diary entries. You can begin writing as soon as you like.
- The entries can be fictional or true.
- The diary entries can be posted in a SocialBook© or in a BookRix book. The 30 entries can be posted in one day or over the 30 day writing period.
- There will be no wildcard nomination for this contest. If you like a contest book, feel free to pass the word along to your friends and ask them to read and vote for it if they think it deserves their vote. You could help them get into the top ten!
- Please do not spam your BookRix friends with voting requests – no one likes spam.
*For complete rules, please visit the Dear Diary contest's Conditions of Entry page.

Ready to get started in the Dear Diary Contest using SocialBook©? Watch this tutorial to learn more:
SocialBook© Tutorial Part 7: How to Use a SocialBook© As a Journaling Tool Without a Hashtag
Posted in
Free Writing Contests
|
Tagged

Dear Diary, Facebook, Free Writing Contests, iPad, Journaling, Journalkeeping, Journalling, SocialBook, Twitter, writing challenge, Writing Online
|
3 Comments
Published
February 22nd, 2011
|
By
BookRix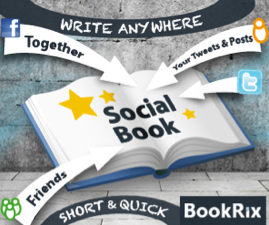 As many of our community members already know, BookRix recently launched it's beta phase for our newly introduced social media application, SocialBook©, an online feature that allows writers anywhere in the world to collaboratively participate in building an e-book from either their Facebook, Twitter or BookRix profiles, simply with connecting their accounts. The free-to-use SocialBook© application sets a new standard in collaborative writing and offers limitless opportunities and uses for online content, in a format that can be saved, stored, shared and even embedded like a YouTube video, with real-time updates and no limit on the number of co-authors.
The BookRix SocialBook© app now gives social media users an easy way to collect posts, tweets, stories, conversations and ideas that previously would have disappeared into digital dust. Writing on the internet has never been this social before!
Plus, with the ViewRix software features on BookRix, readers can comfortably read SocialBooks© like any other book on BookRix, with the same fun built-in sharing and usability tools to comment, forward or rate the title.
Social writing and content archiving is now truly an option with the SocialBook© application. By using any specified topic #hashtag, all participating #hashtag posts, tweets or comments by invited online users will be fed directly into a specific SocialBook©, with automatic updates of content every 15 minutes. Love the idea of saving every post? Go unfiltered and set-up the SocialBook© app as a collection tool for all posts or tweets by simply choosing not to set a specified hashtag – either way works!
A great feature that users should know about is that SocialBook© authors can control who can participate, how their SocialBook© is seen, whether it's only readable online or as an e-book download, and whether it can be embedded or not. BookRix users owning an iPad, smartphone or a similar mobile eReading device also have the ability to download SocialBooks© from the BookRix mobile site as well.
There are endless topics where the SocialBook© might be the perfect way to save and share collaborative writing efforts including Group Writing, News and Events, Weekly #hashtag Chats, Daily Tips, Favorite Quotes, Haiku Poems and much more. Check out the SocialBooks© the BookRix community has already come up with. What are some ideas you might have for a SocialBook©? Join us and Socialize Your Voice by writing in a SocialBook© today!
Ready to get started? Check out our overview SocialBook© video tutorial here, or our tutorial snippets on the BookRix YouTube Channel to learn more about this fun new feature from BookRix.