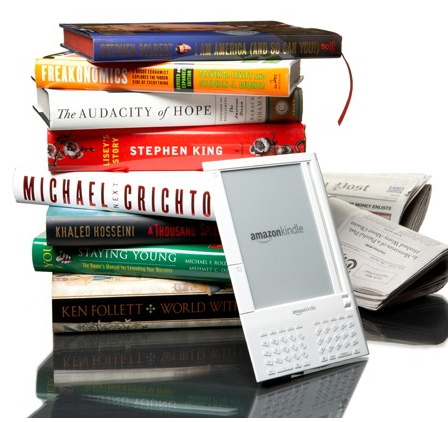 Recently I heard about Amazon's beta launch of @author and it got me thinking. Sadly my initial reaction was more Negative Nancy than Positive Polly. I couldn't help but think how obnoxious this new feature could be, and I found myself thankful not to be a published author. If you're unfamiliar with @author, allow me to break it down for you.
First things first, you'll need to own a Kindle as well as a Twitter account (which must be synced together). Got 'em both? Let the author nagging commence! Say you're reading a self help book on your Kindle and one of the self improvement exercises seems a little vague or unclear. Hell, maybe you even disagree with it. With the @author feature, you can highlight the specified text and send it directly to the author along with your question and/or comment. Sure, you're limited to 100 characters, and who knows if you'll actually get a response. But at least you're no longer tweeting to an author who has to filter through pages of @mentions and spam, right? Well, let's hope some spam filters are in place.
In my worst-case-scenario brain, I envision this as just another avenue for folks to troll and flame their favorite (or least favorite) literary wordsmith. Throw in the occasional nagging question "what did you mean by (insert euphemism here)?" or comments "What the hell were you thinking when you…." and this shiny new feature sounds like the Pandora's Box of social media for authors. Ugh.
Let's hope these beta tests go off without a hitch and the authors involved don't go running for the hills. #BestOfLuck guys. I think you'll need it.
Posted in
BookRix
|
Tagged

@mentions, Amazon, author, beta, euphemism, flame, hightlight the specific text, Kindle, Negative Nancy, Pandora's Box, Positive Polly, published author, self improvement, spam, troll, Twitter, worst-case-scenario
|
Leave a comment
Published
March 1st, 2011
|
By
BookRix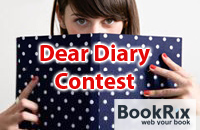 The BookRix Dear Diary free writing challenge begins today! The challenge? Write 30 entries in 30 days!
This March diary journalers will get 30 days to create 30 diary entries, with a chance to win an iPad with a cool hardback leather case!
Write your 30 diary entries either in a BookRix online e-book or via the SocialBook© social media application feature, new from BookRix! Journal keeping and daily microblogging has never been this easy – collect posts from your Facebook status updates or your Twitter tweets with a SocialBook© easily and effortlessly with this automatic software! The idea for Dear Diary contest participants is to create a story via real or fictional diary entries spanning across 30 entries within 30 days.
Writing starts March 1 and ends March 30. At that point, your 30 entries should be complete in an online book on BookRix and submitted. Voting begins on March 31 and is open to voting by the BookRix community until April 14. The top ten contestants as chosen by the BookRix community will advance on to the independent jury, where final selections are made.
The prize for the top diary book of entries is an iPad with a cool bookbook case from TwelveSouth! That's nearly a $600 value!!!

Readers can also win great prizes for reading, commenting and voting on Dear Diary contest books! Plus, if you participate in the Dear Diary contest by voting for your favorite, you will be automatically entered into a raffle for a chance to win a $20 Amazon gift card! We're giving away 10 Amazon gift cards so there's a high likelihood you could win. Good luck!
Guidelines for Contest:*
- Contestants will have 30 days to write, create their books and post them on the site. Books should be uploaded by March 30. Voting starts March 31st and goes until April 14, 2011, 11 pm GMT.
- The book must contain 30 diary entries, which tell a story. Entries do not have to be created on 30 different days, but there must be 30 diary entries. You can begin writing as soon as you like.
- The entries can be fictional or true.
- The diary entries can be posted in a SocialBook© or in a BookRix book. The 30 entries can be posted in one day or over the 30 day writing period.
- There will be no wildcard nomination for this contest. If you like a contest book, feel free to pass the word along to your friends and ask them to read and vote for it if they think it deserves their vote. You could help them get into the top ten!
- Please do not spam your BookRix friends with voting requests – no one likes spam.
*For complete rules, please visit the Dear Diary contest's Conditions of Entry page.

Ready to get started in the Dear Diary Contest using SocialBook©? Watch this tutorial to learn more:
SocialBook© Tutorial Part 7: How to Use a SocialBook© As a Journaling Tool Without a Hashtag
Posted in
Free Writing Contests
|
Tagged

Dear Diary, Facebook, Free Writing Contests, iPad, Journaling, Journalkeeping, Journalling, SocialBook, Twitter, writing challenge, Writing Online
|
3 Comments