I've heard people argue that vampire novels are an ending fad. But those words would never spew from the mouth of a true fan. Twilight wasn't the first fantasy series to grip readers' interest with its love story between humans, vampires and werewolves. But this classification of written work may have been the introduction to many if you hadn't previously read or heard of fantasy/fiction before.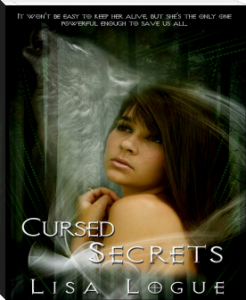 This increasingly popular genre has managed to take various age groups by storm. Which is why I was especially interested to see what our indie authors were working on. This week on BookRix.com, Cursed Secrets by Lisa Logue was the first book to display when I selected 'Books' from the nav bar. The cover peaked my interest, as did the blurb and tags (Tags: Fantasy, Vampire, Witchcraft). I downloaded it to my Kindle, took a seat in my arm chair and started in reading.
The storyline is stitched together nicely with a good combination of suspense, mystery and love. Well played, Lisa.  After reading it myself, I emailed the book link to my old roommate, an avid Twilight/Team Jacob fan, and told her to check it out. Within two days, she responded with a glowing review and enthusiastically asked if the book was part of a series. I'm not certain, but I suspect it might be.
Whether you're a huge supporter of the vampire/fantasy genre or you've yet to dabble in it, try out Lisa Logue's latest book, Cursed Secrets. And while you're it, leave her a review! Here's how to find it: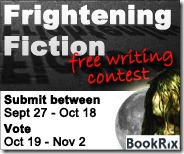 Whether you write the classic horror stories, vampire romance novels or gothic short stories, scare everyone half to death with your next story in the BookRix free Frightening Fiction writing contest. Now's your time to shine as a ghastly, nightmare-giving, gruesome writer!
There are only a few limitations: each book must be at least 25 BookRix pages long and must have a cover.

Get chills down your spine with our thrilling prizes:
First place: $800
Second place: $500
Third place: $300
Plus, become a free member of the Into the Darkness group and participate in the horror-related activities, discussions and writing challenges that will take place there.

Deadlines:
This contest will be run a little differently from past contests: there will be a submissions period and a community voting period that do not overlap. Contestants are asked to submit their work during the submissions period between September 27 and October 18, 2010. After the submissions period, your fellow BookRix members can vote for the books to make up the top 10 between October 19 and November 2, 2010.
BookRix members also can nominate their favorite contest books for wildcards between October 22 and October 29, 2010. As usual, the top ten books and wildcard picks will advance to the independent jury to judge which books will win first, second and third place. Winners will be announced once the judging is complete on or before December 8.
Timeline:
Submissions period for books – September 27 – October 18
Community Voting – October 19, 2010, to November 2, 2010
Top Ten and Wildcard Winners Announced – November 12, 2010
Jury Voting – November 12, 2010, to December 3, 2010
Top 3 Winners Announced – December 8, 2010
We have prizes for BookRix readers, too!
Not ready to join in and submit your writing? You can still help your fellow BookRixers by reading their contest books and voting for your favorite submitted stories. Our readers choose the winners with their voting selections, so make sure to recommend and vote for your favorite contest books!
With your vote, you are automatically entered into a raffle to win one of ten Amazon gift cards – worth $20 each!
So authors, start writing, and fans get ready to start reading!