It's (not its) Grammar Day!
March 4th is Grammar Day, so we'd like to share our Grammar Lesson #1, in hopes that later on, we will share Lesson #2. I know that grammar lessons can be boring and often lead to napping instead of learning, but I'm here to say, "WAKE UP!" because you don't know everything about grammar yet!
A few months ago, we shared a helpful blog, How To Avoid Common Writing Mistakes, in hopes that we could put an end to those pesky mistakes. Alas, it seems that the BookRix Grammar Police will never be able to use their vacation time because they can't even go off-duty for a second without one writer or another bungling up the English language. Here is an example of inappropriate grammar behavior:
Offence #1: Inappropriate Apostrophes – I know I do this all the time – there are certain words that just beg for apostrophes when they're not necessary. I am constantly writing "author's" when I'm really just talking about more than one of you. Keep in mind that the only time you use them is when the 's = is or when the 's = possession.
For example:
- There are seven authors entered in the competition. (requires NO apostrophe because it is a simple pluralization)
- The author's about to enter the contest! (requires an apostrophe because it is really "author is")
- The author's book didn't win the competition. (requires an apostrophe because the book belongs (is possessed by) the author)
- The authors' were all hoping to win the grand prize. (requires an apostrophe after the word because it is possessive and pluralized)
This problem is so great that there are at least two blogs devoted to pointing out the world's mistakes.
Apostrophe Catastrophes and Apostrophe Abuse
Offence #2: Inappropriate Quotation Marks – I'm very adament about not overusing, or misusing, quotation marks and it drives me up the wall when I see inappropriate quotation marks. They are called quotation marks for a reason. They should be used to show off material that represents quoted or spoken language. They can also be used to show titles of things that don't normally stand by themselves, like short stories, poems, and articles. Unfortunately, they are often misused and make text appear sarcastic.
For example:
- We are very "sorry" for your loss. (This doesn't make it seem like we are physically saying, "Sorry," instead it makes it seem like we're not really sorry at all.)
Check out The "Blog" of Unnecessary "Quotation" Marks for some hilarious examples.
Offence #3: Inappropriate Commas – There are so many rules, that it feels near impossible to keep up. It's best to print out the rules and keep them next to you. Our blog is too short to include them all, so here is a link to GrammarBook.com's section about Commas. Basically, the greatest advice about commas is to use them with caution because their greatest offense is OVERUSE.
Offence #4: Inappropriate Homonyms – Homonyms are words that sound alike but have different meanings. Sometimes, they're also spelled differently. If you mix them up it can cause confusion (for the reader) and embarrassment (for you).
For example: She pulled out a bow and handed it to him. Well, if this is a hair bow, she obviously wants help with her up-do, but if she is pulling out the weapon (as in bow and arrow) then we'll know that they are about to have an adventure.
Their/they're/there and To/Two/Too are good examples of ways for writers to embarrass themselves. If you don't know the difference, or find yourself often using the wrong one by mistake – practice! If that still doesn't help, get an editor who knows the difference to save you from the endless criticism that these mistakes will bring you.
Click HERE to see some more examples.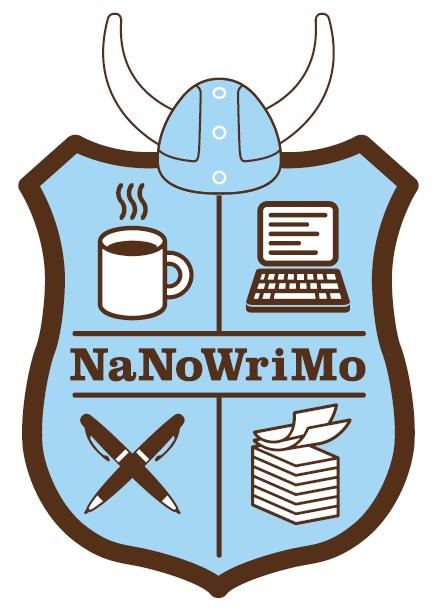 NaNoWriMo has finally arrived again, so BookRix is here to say to aspiring writers, "Now's the time to get organized, brainstorm, have fun and write write write all month long!"
National Novel Writing Month (also known as NaNoWriMo) is an annual creative writing project coordinated by The Office of Letters and Light, a non-profit organization. Lasting the entire month of November, the project challenges participants to write 50,000 words of a new novel. (In our opinion, even making it all the way to 30,000 in 30 days is a feat to be proud of!)
Not only is NaNoWriMo free to register with, but there's tons of support and resources to help guide writers along the four weeks of dedicated output. They've been working hard since July of 1999 when founder Chris Baty began NaNoWriMo with only 21 participants. According to the Wikipedia article on NaNoWriMo, last year more than 170,000 people signed up and 2,427,190,537 words were written!
In case you're a newbie to NaNoWriMo, here's a short video by NaNoWriMo veteran Kristina Horner to get you BookRixer's thinking about whether this is something you'd like to join thousands of others in doing this month:
Love following tips? Follow NaNoWriMo's tweets on Twitter to keep you motivated! And update BookRix on Twitter as well with including @BookRixUS in your tweets!
Good luck and happy writing! We look forward to reading your NaNoWriMo stories on BookRix in December ☺